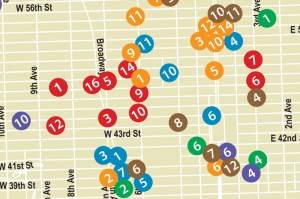 In this past season of Mad Men, Don Draper and Roger Sterling pounced on cheaper rents and hustled their new ad agency from the Madison Avenue stomping grounds synonymous with advertising to the Time & Life Building on Sixth Avenue (after an illegal stint in the Pierre). It happens–companies debut; companies move; companies need space.
It happened a lot in 2010, as literally dozens of firms, employing millions of people, took advantage of a commercial real estate market weakened by the Great Recession, and either moved to new spots within the city or announced their intentions to do so in the near future.
MEDIA & THE ARTS (Red)

1. WNET, 825 Eighth Avenue
The public-television producers of Worldfocus and Bill Moyers Journal moved into a 95,000-square-foot headquarters, plugging part of a giant hole at George Comfort & Sons' Worldwide Plaza.
2. Daily News and U.S. News and World Report, 4 New York Plaza
Mort Zuckerman's Daily News and U.S. News & World Report Media Group will move downtown to a new FiDi home mostly occupied by JPMorgan Chase. The pubs will leave behind their Death Star on West 33rd.
3. Xinhua, 1540 Broadway
The Chinese broadcaster landed on an 18,600-square-foot perch atop the Times Square tower with some enviable double-height ceilings. First order of business: The landlord had to sound-proof the space.
4. TED Talks, 250 Hudson Street
The pep-talk peddlers found an inspiring new 9,000-square-foot home at 250 Hudson Square, a loft building that features a rooftop garden.
5. Marvel Entertainment, 135 West 50th Street
The comic-book king leaped tall buildings to a 60,000-square-foot space in the Sports Illustrated Building. Marvel, recently acquired by Disney, was formerly headquartered at 417 Fifth Avenue.
6. Meredith Corporation, 805 Third Avenue
The publisher of Ladies' Home Journal moved from two buildings near Grand Central into a svelte new space at Third Avenue and 50th Street. The 212,594-square-foot lease marked one of the year's biggest transactions.
7. Radio One, 850 Third Avenue
The radio station, which caters to African-American listeners, moved into a 39,000-square-foot New York headquarters, in a building also occupied by the Discovery Channel.
8. Newsweek, 7 Hanover Square
The ailing news magazine left 395 Hudson and moved into these dingy quarters just after a merger with the Daily Beast. It will likely move again–to Frank Gehry's IAC building–by April.
9. The Daily, 1211 Sixth Avenue
Rupert Murdoch is readying a high-tech spread, including television studios, in the News Corp. building on Avenue of the Americas for his iPad-only newspaper, which launches in early 2011.
10. W magazine, 1166 Sixth Ave.
The redesigned fashion magazine left its Fairchild brethren at 750 Third Avenue for a chic space here. Editor Stefano Tonchi helped with the design.
11. Condé Nast,
One World Trade Center
The publisher of such titles as The New Yorker and Vanity Fair signed a letter of intent with the Durst Organization to move from 4 Times Square into what will be North America's tallest tower by 2013.
12. The New York Observer,
321 West 44th Street
The fab salmon-colored paper moved from suite digs at 915 Broadway to parts of two floors near Times Square in the recently renamed The New York Observer Building.
13. Horizon Media Inc.,
One Hudson Square
The international media consulting group consolidated its New York operation from three midtown office buildings into three floors, 14 through 16, in Trinity's 1 Hudson Square.
14. Hachette Filipacchi,
1271 Avenue of the Americas
Elle publisher Hachette Filipacchi tightened its belt, moving its stateside offices from 1633 Broadway to space less than half that size, on three floors in the Time & Life Building formerly occupied by Lehman Brothers.
15. Carnegie Hall, 1633 Broadway
When the hall began a four-year renovation last winter, administrative staff were pushed six blocks south to 50,000 square feet in the Paramount Group's 48-story 1633 Broadway at 50th Street. After the renovation, staff will return to the Carnegie Hall towers on 56th Street, formerly living quarters and studios rented by artists.
16. Publicis Modem,
4 Herald Square
Publicis Modem, the digital advertising arm of the Publicis Groupe–headquartered in 200,000 square feet at 4 Herald Square–consolidated from offices split between there and 75 Ninth Avenue into space at 85 10th Avenue, subleased from CBS College Sports.
17. Whitney Museum of American Art, 820 Washington Street
After getting kicked out of the Marcel Breuer building on Madison at 75th and into townhouses around the corner to free up the fifth floor for gallery space, the Whitney's curatorial staff will once again share a roof with the galleries, in the museum's new Renzo Piano building in the meatpacking district, scheduled to open in 2015.
LAW FIRMS (Teal)

1. Proskauer Rose,
11 Times Square
A shiny tower at Eighth and 42nd got its first tenant when the prominent law firm agreed to take 400,000 square feet. Proskauer's moving expenses were certainly taken care of when its previous landlord, Morgan Stanley, offered tens of millions of dollars for the firm to vacate 12 floors at 1585 Broadway.
2. Desmarais LLP,
230 Park Avenue
The fledgling IP boutique opened its first-ever office on the 22,408-square-foot 26th floor of the Helmsley Building. John Desmarais, a former top-earner at Kirkland & Ellis LLP, broke away to found his own patent firm in 2009.
3. Klestadt & Winters,
570 Seventh Avenue
Times have been good to these bankruptcy lawyers, who left 292 Madison and took 8,870 square feet at 570 Seventh Avenue for 10 years.
4. Freshfields Bruckhaus
Deringer LLP, 601 Lexington
The Brit law firm handling the 2012 Olympic Games moved into 108,000 square feet at 601 Lexington Avenue, 50 percent more space than it occupied at 520 Madison.
5. Ladas & Parry LLP,
1040 Sixth Avenue
The IP lawyers took 24,000 square feet at Skyline's newly refurbished building. They were formerly located at 26 West 61st Street.
6. Hargraves McConnell &
Costigan, 230 Park Avenue
This law firm, specializing in insurance, leaped from gray to gold this year, making the move from SL Green's Graybar Building at 420 Lexington to 10,000 square feet in the Helmsley Building at 230 Park.
7. Molod Spitz & DeSantis,
1430 Broadway
The insurance defense firm with a dozen attorneys signed a 12,500-square-foot lease for the 21st floor, moving from 104 West 40th Street.
8. Purrington Moody Weil,
414 West 14th Street
The entertainment lawyers are grooving in 7,968 square feet in the meatpacking district, just a hop away from their former spot on 13th Street.
9. Brisbois Bisgaard & Smith,
77 Water Street
The L.A.-based lawyers took 75,716 square feet, more than doubling their Manhattan office space, moving down the street from 199 Water into space owned by Goldman Sachs.
10. Haynes & Boone, 30 Rock
This Dallas-based law firm considered staying at 1221 Sixth Avenue but was lured to a 75,000-square-foot space on the 25th and 26th floors of the unmistakable black behemoth.
11. Dorsey & Whitney,
51 West 52nd Street
This international firm with 700 lawyers took 70,000 square feet at CBS' Black Rock for its New York headquarters, moving from 520 Park Avenue.
12. D'Amato & Lynch,
2 World Financial Center
The law firm was forced to find new digs after its old landlord, AIG, sold its headquarters at 70 Pine Street last year. Now it occupies 63,065 square feet at an office megaplex also occupied by Bank of America.
13. Susquehanna International Group, 140 Broadway
The trading outfit jumped to the other side of the Stock Exchange from 40 Wall Street to the 47th and 48th floors of the HSBC Bank Building at 140 Broadway, the home of Isamu Noguchi's Cube.
REAL ESTATE (Green)

1. A.C. Lawrence,
228 East 54th Street
The residential firm moved into shuttered Century 21 NY Metro's 13,000-square-foot office.
2. Dattner Architects,
1385 Broadway
The architects gave up artists' lofts at 130 West 57th Street to move into 23,500 square feet, the entire 15th floor, in the so-called Bridal Building.
3. Halstead, 499 Park Avenue
The residential brokers landed a prime 17,000-square-foot location at Park and 59th Street. The company's flagship was most recently located at 1356 Third, between 77th and 78th streets, after it started out in a Madison Avenue townhouse.
4. Cooper Square Realty, 622 Third Avenue
The city's largest residential property management firm scored its own fancy digs at Charles Cohen's bustling 622 Third. The 66,000-square-foot leasehold is just east of its former space, at 6 East 43rd Street.
5. Studley, 399 Park Avenue
The firm, specializing in tenant representation, played the tenant itself, relocating its corporate HQ to 61,000 square feet. The expanding brokerage moved just up the street from its 20-year home at 300 Park.
6. Jones Lang LaSalle, 330 Madison Avenue
Even the experts took a while to find 82,000 square feet in Vornado's glass box. One of the city's largest commercial brokerages will leave Mort Zuckerman's trophy at 601 Lexington. Score one for Steve Roth.
FINANCE (Orange)
1. Natixis, 1251 Sixth Avenue
The French money managers will fill the 180,000-square-foot space at the base of Rockefeller Center left behind by Avon.
2. EisnerLubin LLP, 1411 Broadway
The accountants strode into the garment district with a 19,000-square-foot lease that helped them expand their space by 50 percent from a former Madison Avenue home.
3. Senator Investment Group, 510 Madison Avenue
The hedge funders signed the first lease at Harry Macklowe's former building, for 11,500 square feet, with a starting rent of $100 a square foot.
4. Société Générale SA,
245 Park Avenue
France's second-biggest bank signed the year's largest lease, taking a 442,000-square-foot chunk of space vacated by Bear Stearns. The space was like a "needle in the haystack," said one broker for the bank, which will move its U.S. HQ from 1221 Sixth.
5. Mizuho Securities USA,
320 Park Avenue
After vetting every top-tier space in midtown, the traders settled on 69,000 square feet at Mutual of America Building, subleasing from JPMorgan. The firm was formerly located at 1251 Sixth Avenue.
6. Arsenal Capital Partners, 100 Park Avenue
This private-equity firm, with offices in Shanghai and New York, was determined to stay on Park Avenue, and so it did with an 11,000-square-foot lease, migrating down the block from 320 Park.
7. Elliott Management, 40 West 57th Street
The hedge fund was lured to a consolidated 75,000-square-foot space from its home in a high-end midtown tower at 712 Fifth Avenue.
8. Ares Capital Corporation, 245 Park Avenue
The investors took 66,656 square feet in the building, joining Société Générale.
9. Dahlman Rose & Company, 1301 Sixth Avenue
This small investment firm, focused on the shipping industry, set sail this year for an additional 65,888 square feet in the midtown building also occupied by Barclays.
10. Piper Jaffray & Co., 345 Park Avenue
The Minneapolis-based investment bank decided that one headquarters is indeed better than two. It left behind two other addresses in favor of 65,000 square feet in the Rudin-owned building also occupied by the Blackstone Group.
11. First Eagle Investment Management, 1345 Sixth Avenue
The firm quietly leased 63,000 square feet.
12. MF Global Holdings, 55 East 52nd Street
Former New Jersey governor Jon Corzine took the lead of the small, struggling investment firm and promptly moved it to 62,000 square feet between Madison and Park. The company will keep the 65,000-square-foot space it has at 717 Fifth.
13. New York Liquidation Bureau, 110 William Street
The New York Liquidation Bureau, which handles insolvent insurance companies for the state, took floors 15 through 17, plus some space on the 18th floor, in Kent Swig's 110 William Street.
14. PineBridge Investments,
399 Park Avenue
AIG sold its building at 70 Pine, along with the eponymous asset-management business, PineBridge Investments. The company, which was bought by the Hong Kong-based Pacific Century Group, took over the entire fourth floor and part of the sixth at Boston Properties' 399 Park. Former AIG head Hank Greenberg's C.V. Starr & Co. is just an elevator ride away.
15. Deloitte & Touche LLP,
World Financial Center
After losing space in the World Trade Center, the accounting and consulting giant subleased space in Merrill's building in the World Financial Center. This fall, the company added 100,000 square feet in 30 Rock.
NONPROFITS, UNIONS & GOVERNMENT (Purple)

1. Planned Parenthood,
125 Maiden Lane
International Planned Parenthood Federation made a short jump from its headquarters at 120 Wall Street and a big leap to owning 26,000 square feet. It paid around $9 million.
2. AIDS Vaccine Initiative,
125 Broad Street
The nonprofit leased 37,404 square feet for its New York headquarters in Mack Cali's nonprofit haven, where the American Civil Liberties Union also resides.
3. Innocence Project,
40 Worth Street
These defenders of the wrongfully convicted expanded to 20,289 square feet at Jeff Gural's downtown nonprofit refuge, joining the Legal Aid Society and Public Health Solutions.
4. U.N. Population Fund,
605 Third Avenue
The U.N. folks took 130,740 square feet of Pfizer's former space at 605 Third. The population fund was formerly at the original Daily News building at 220 East 42nd, but the new location brings it a lot closer to the U.N. headquarters.
5. Healthfirst, 100 Church Street
The nonprofit brought life back to SL Green's downtown building with a 172,000-square-foot lease, moving its headquarters from 25 Broadway.
6. New York Blood Center,
125 Park Avenue
The largest independent blood center in the country subleased the entire 21st floor from fame-averse billionaire Chuck Feeney's Atlantic Philanthropies Foundation.
7. Farber Center for Radiation
Oncology, 100 Church
The health care center signed a 20-year, 21,965-square-foot lease, the first since SL Green took over troubled 100 Church from the Sapir Organization.
8. Bowery Residents' Committee, 127-131 West 25th Street
The affordable-housing provider found its own 104,500-square-foot home, moving uptown from Lafayette Street.
9. M.T.A., 333 West 34th Street
The transit authority arrived at a recently refurbished 113,000-square-foot spot at 333 West 34th Street with 18-foot glass walls. Perhaps that will inspire them to finally renovate a few stations.
10. DC 1707,
414-422 West 45th Street
The union signed a major 67,706-square-foot lease, with an option to buy. The reps for 25,000 members of the day care, health-care and nonprofit sectors are moving uptown from 75 Varick Street.
11. International Multiple
Sclerosis Management Practice, 521 West 57th Street
In a large-scale expansion, the largest MS research and treatment facility in the world brokered a 48,000-square-foot addition in July to create a stem cell research lab and wellness center with two new MRI machines.
12. Metis Associates,
120 Wall Street
The nonprofit consultant landed among friends in 19,500 square feet at 120 Wall, which has tenants like the National Urban League, the United Way of America and the United Negro College Fund. The company relocated from nearby 90 Broad.
13. GHMC, 450 West 33rd Street
After being turned away from several properties ("I was surprised and disappointed in my real estate colleagues," one Cushman & Wakefield broker told the Post), the Gay Men's Health Crisis signed a sublease for the sixth floor of 450 West 33rd Street from Thirteen/WNET, which is transitioning to space on Eighth Avenue.
14. City University of New York, 395 Hudson Street
Following an aborted move to downtown Brooklyn, CUNY renewed its lease in SL Green's 555 West 57th Street and added some extra space in 395 Hudson Street, former home of Newsweek.
OTHERS (Brown)

1. Noven Pharmaceuticals,
Empire State Building
Moving from one iconic building to another, the company signed a 25,346-square-foot lease for the entire 37th floor, leaving behind the Chrysler Building.
2. JetBlue,
27-01 Queens Plaza North
After winning impressive concessions, including some rights to the "I ♥ NY" slogan and an agreement to emblazon its name on Long Island City's Brewster building, the airline will sublease 200,000 square feet from MetLife.
3. Ford Models,
57 West 57th Street
The agency took 11,239 square feet on the top three floors of 57 West 57th Street, which includes a terrace with some sweet cityscapes–though hardly the most beautiful sight in the office.
4. Avon, 777 Third Avenue
The beauty product peddler went door to door from 1251 Sixth to 246,500 square feet at 777 Third. The mega-move has been credited with inspiring a flurry of deals and helping to revitalize the block in the far east.
5. Telehouse International
Corporation of America,
85 10th Avenue
The co-location specialists did some relocating of their own, to 59,383 square feet on 10th Avenue.
6. Kohl's, 1400 Broadway
The discount clothiers doubled their design space to 60,000 square feet, moving from 1395 Broadway to 1400 Broadway. Expect to see more from such lines as Candies, Simply Vera and Chaps in the coming year.
7. Hartmarx Corporation,
125 Park Avenue
The Chicago-based tailor to Barack Obama has faced financial trouble of late, but it moved its New York offices into 56,772 square feet at 125 Park Avenue.
8. Diageo North America,
530 Fifth Avenue
Well, at least we know what they'll be drinking at the office-warming party. The Connecticut-based booze juggernaut, which makes Guinness, Johnny Walker and Red Stripe, leased 56,156 square feet.
9. Tiffany & Company,
200 Fifth Avenue
The jeweler consolidated from 17 floors spread across three midtown buildings to four and a half floors in the former International Toy Building, home of Mario Batali's new Eataly.
10. National Football League,
345 Park Avenue
With NFL Commissioner Roger Goodell looking to cut costs, the league took over three full floors in Rudin's 345 Park, two blocks north of their former home.
11. Innovation Interactive LLC,
32 Sixth Avenue
The Japanese-owned Internet marketing technology company moved from Chelsea to join up with Dentsu, its parent company, in space formerly occupied by AT&T at Rudin's 32 Avenue of the Americas.
12. AECOM, 100 Park Avenue
The Los Angeles-based Fortune 500 tech company AECOM, owner of Tishman Construction, signed up for 106,000 square feet, anchoring SL Green's repositioning of the building as Class A office space.
Information on the above moves was culled from The Observer's original reporting over the past 12 months and that of other media, and from data prepared by brokerage CB Richard Ellis (stats current as of Dec. 16).
Graphic by Peter Lettre