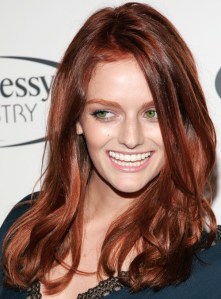 Lydia Hearst — socialite, model, and heir to the great American publishing house that bears her name — recently moved from her home in New York to the sunny, smog-laden streets of Los Angeles. The reason for the move, The New York Post reports, is twofold: she wanted to progress her budding career as an actress, and she wanted to be closer to her boyfriend, the inimitable Jeff Goldblum. The man who famously forgot his mantra is now 58 years old. Lydia, his new paramour, is just 26.
It's a marvel that the relationship can stay afloat, and, perhaps even more surprisingly, that Hearst's acting career appears to be flourishing as well. The Post reports that up-and-coming filmmaker Charles Casillo has cast the beauty as the lead in his new feature. Hearst will play an actress who's fallen from grace, dabbled heavily in the ABCs of prescription pills, and is seen as a shadow of her former self. Sound familiar? Lindsay Lohan, you say? Ding ding ding we have a winner!
"Lydia will play a bratty movie goddess in and out of rehab, in trouble with the law, and hounded by greedy agents, predatory paparazzi, off-the-wall stalkers and crazed media — a role obviously based on Lindsay Lohan," Casillo told the Post.
The only thing left to ask is… who will Goldblum play? Surely the couple — our favorite celebrity item in all the world — would want to work together on the film, right? The only roadblock here is that the natural fit for Goldblum would be the father character, the crazed Michael Lohan dad from hell. But that might be a bit… weird. We're sure they'll work something out, though, for cinema's sake. You have to make sacrifices for your art, Lydia!
Click for Scandal Report: With Natalie and Mila in Town, New York Goes Swan-Crazy
nfreeman [at] observer.com | @nfreeman1234