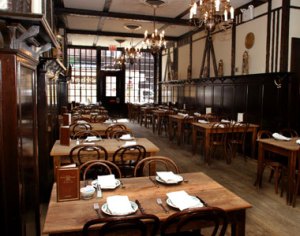 Regardless of the standard of the food, when it comes to certain Brooklyn neighborhoods it seems dining critics can't resist harping on the fact that, well, they're in Brooklyn. Yesterday we witnessed San Sifton spilling vats of ink on the twee accoutrements that peppered the clothing in Greenpoint's "hipsterish" restaurant Anella.
The carnage doesn't end there, though. Today, Steve Cuozzo at The New York Post reserved the ninth and final bullet point in his "Restaurant Rant" — a screed against his more hated food trends — for one topic: Williamsburg. When it comes to their earteries he is not a fan.
Please. Its restaurants wouldn't receive one-sixteenth the attention they get if so many food writers and bloggers didn't live there or nearby. Fatty Cue is not Fatty Crab. There are better places to eat in Red Hook, Downtown Brooklyn and in unfashionable Bensonhurst and Bay Ridge. The stomping ground of subsidized slackers who spend fortunes trying to look poor, Williamsburg needs a one-year media blackout. Maybe it will encourage restaurants to prepare themselves for real-world scrutiny.
Not only is it a bit petty to call Williamsburg dining a "trend," but if the food's good, why does it matter? Though it might be hard to separate the place from its identity when you have Camel hijacking its image to sell cigarettes.
nfreeman at observer.com |@nfreeman1234
Click for Scandal Report: And Then The Model At Diddy's Party Burst Into Flames