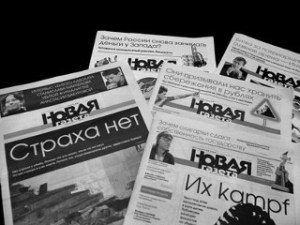 Russian newspaper Novaya Gazeta will team up with WikiLeaks to expose corruption in Russian government, reports Bloomberg BusinessWeek.
"Assange said that Russians will soon find out a lot about their country and he wasn't bluffing," Novaya Gazeta said. "Our collaboration will expose corruption at the top tiers of political power. No one is protected from the truth."
The newspaper has been given full access to the Wikileaks database and will begin publishing documents next month.
Novaya Gazeta is a weekly newspaper run by former Soviet leader Mikhail Gorbachev and billionaire Alexander Lebedev, known as an independent and critical alternative to the state-run papers. It was home to Anna Politkovskaya, the journalist who wrote about civil rights abuse in Chechnya and corruption in Putin's Kremlin and was assassinated on Putin's birthday in 2006.
Documents about Politovskaya's murder, as well as information linking Russian officials to organized crime, are reportedly in the imminent release.
@kstoeffel | kstoeffel@observer.com