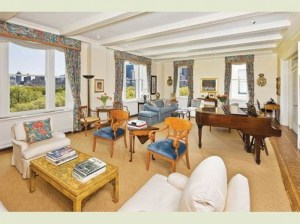 Sarah Jessica Parker and Matthew Broderick have picked 88 Central Park West, but they still have one big hurdle to clear.
The building's finicky co-op board is even wary of billionaires, a source familiar with the building told The Observer. When Michael Naify bought Sting's apartment at 88 Central Park West, he came within an inch of rejection.
Mr. Naify paid in cash for the $17.75 million place, but the board was still skeptical about his finances, the source said. "Maybe they are just celebrity hounds," the source said, which, of course, would be good news for the newest buyers. The Parker-Broderick brood bought a high-floor apartment currently belonging to socialite Laurie Tisch. Their new place is much more desirable than Sting's old spread, said the source. Even though the potential Parker-Broderick pad faces north, it has much better views over the trees of Central Park than Sting's former third-floor unit.
But the coveted high-floor place has a funky layout, he noted. Both apartments are roughly 6,600 square feet, but the Sting apartment has five bedrooms, while Ms. Tisch's has eight. "Maybe they're planning on having a lot of guests?" the source said.
Previously: Sarah Jessica Parker and Hubbie Settle on 88 Central Park West
Slideshow: What will they do with eight bedrooms?