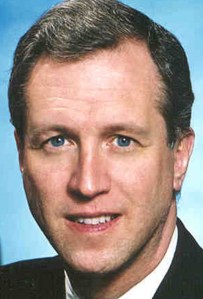 TRENTON – State Democratic Party Chairman (and Assemblyman) John Wisniewski (D-Sayreville) went to law school at Seton Hall University with Gov. Chris Christie, but shared no anecdotes about BMOC rivalries or dog-ate-my-homework recollections or inappropriate behavior.
"Unfortunately, I spent too much of my time studying and working than socializing," Wisniewski told PolitickerNJ.com. "Had I known I would have been in this position 20 years later, I would have paid more attention. In law school you don't get a ton of time. You tend to form small study groups."
But the sitting governor is providing ample fodder his chief critic now regards as inappropriate, including the Republican's Parsippany town hall event when he kept a microphone at arm's length from a teacher Christie had invited onstage with him to have a dialogue, then told a state trooper to fetch the befuddled citizen.
"This is a governor who has someone with him taping town hall meetings and immediately uploading YouTube moments, not because he's come up the with Rosetta Stone of public policy but because he's shouted some poor shlub down – again," said Wisniewski, sitting in State Committee headquarters on West State Street.
PolitickerNJ.com asked the party chair to identify a policy difference or a core philosophical divide with the governor, and Wisniewski focused on the bluster factor.
"I think the question raises in part the wedge that provides a good headline – 'tell me where the line is,'" he said. "There are a lot of things that can be said about Chris Christie, but the difference is about how he fundamentally approaches government. Small r republican democracy is a government founded on compromise. …This governor turns that on his head. He pontificates how he wants things done and bemoans. I understand it's his point of view but government works best when we have a government of compromise. His way creates great theater, belittling his opponents and amassing YouTube moments – but it doesn't create policy."
Wisniewski likened Christie to the famous character from Network, the TV anchor who drives up his ratings with a nightly rant – in contrast to the debonair two-term Republican governor from the 1980s.
"Chris Christie is channeling Howard Beale, not Tom Kean," he said. "I'm not sure what his substance is. His strategy appears to be 'don't let anyone see your cards.' His philosophy is 'if I beat down my opponent enough maybe he'll give in.' This governor has tried to create a national persona to the detriment of New Jersey seniors not getting their homestead rebate. This governor did not make a contribution to the pension system, and kicked the can $3 billion down the road. He has, by virtue of not putting money in, pushed us to a crisis point."
PolitickerNJ.com pointed out that Christie has sufficient organizational ties with Democrats – powerful Essex County Executive Joe DiVincenzo, for example – that free him from being dependent on conventional compromise with the opposing majority party that controls the legislature. Do his teeth grate when he hears DiVincenzo heap praise on the governor? What about state Sen. Brian P. Stack (D-Union City), another Democratic Party powerhouse and self-professed Christie fan?
"They are two of many Democrats," Wisniewski said. "We are a party that is inclusive, that does not have litmus tests in every issue, like the Republicans do. We are strong enough to have good Democrats to carry out our message in a manner with which they think is appropriate.
He added, "It's not about the raw vote-getting, it's about 'is New Jersey going to be a better place when Chris Christie is out of office? He's kicking the can down the road on the budget and on transportation, the ARC (access to the region's core tunnel) a perfect example. That's the federal government paying two thirds of the bill and the governor manufacturing numbers. He decided to pull the plug on ARC and missed that opportunity while building up a repertoire of YouTube moments and building up hard right credentials nationally."
The governor's office cited an agreement this afternoon on arbitration reform as evidence countering Wisniewski.
"His role is nothing but partisan," Christie spokesman Michael Drewniak said of the chairman. "You can't expect anything but complaints. How about something positive for a change like the bipartisan agreement achieved with legislative leaders this afternoon? I noticed he wasn't in the room. He was too busy complaining. He's a strict partisan. That's his job."
The other issue PolitickerNJ.com gave the state Democratic chairman room to grapple with is 2011 redistricting, which Wisniewski heads up for his party.
A common back channel criticism of Democrats – from both gleeful Republicans and downbeat Dems – is that the GOP committee is lined up behind Christie and hungry for a win while the Democratic team is fractured, with various pieces first concerned about their own political survival and only secondarily attentive to the party's bigger narrative.
"We want a map that looks like New Jersey, that embraces geographically and on a gender basis a fair map compact and achieves all of the goals the court has set down."
It's not a law school exam anymore with ambitious men piled into Freddy Caraballo's and other classrooms.
This time, it's realpolitik.