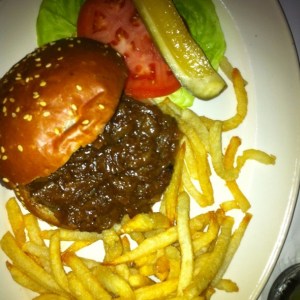 The Zagat Survey is about 30 years old and still known best for being a book. So it's not surprising that their Web product struggled for a while behind a paywall, putting Zagat way behind startups like Yelp and MenuPages.
But lately it seems Zagat's is striking up mobile and social partnerships left and right, trying to get back in the race. The Zagat augmented reality app came out in January. In February, Zagat's partnered with Foursquare for the "foodie" badge and a layer that displays Zagat's reviews to users when they check into a Zagat-rated restaurant–it then became the first brand to hit 50,000 Foursquare followers.
This summer, Zagat's jumped into the daily deal business with "Zagat Exclusives" powered by DealOn. Around the same time, the company announced it would display user photos in Zagat mobile apps from food-porn-meets-geo-tagging site Foodspotting. And now Zagat's is contributing data to a location database Twitter is building for developers in order to make its location service, Places, more precise.
That'll benefit the zillion accounts Zagat's has on Twitter (@Zagat, @ZagatBuzz, @ZagatBuzzNYC, etc.) But does all this mean Zagat's has got the Internet's number? Hard to say. It might be kinda hard to use. E.G.- Here's Nina Zagat and mobile evangelist Ryan Charles explaining the Zagat mobile apps, for 20 minutes:
ajeffries [at] observer.com | @adrjeffries