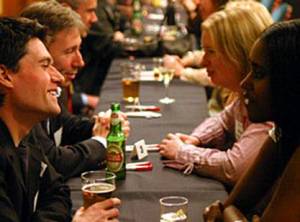 New York City's stealthy-ish startup Hirelite poked its head out yesterday for a match-making event in Silicon Valley, and it's getting some good early reviews.
"Loving @hirelite right now, it's seriously the single most efficient recruiting/interviewing tool I've ever used," San Francisco entrepreneuer Jared Hansen said on Twitter.
Locally, Twilio's John Britton tweeted, "Inteviewing 20 people in two hours for the Lead Open Source Developer at @p2pu. Thanks @hirelite!"
Unless you're one of a handful of hot companies, hiring technical talent in New York is tough. Engineers can cost tens of thousands of dollars to recruit and it can take months to find the right one. The easy money currently flowing in New York, where people with great ideas for Internet companies are more common than people with the technical ability to execute them, also means lots of companies are competing over good candidates.
Hirelite arranges speed interviews over Skype for companies that need to hire software engineers. It was founded in early 2010 by Nathan Hurst, who experienced the other side of this hiring problem as a software engineer and is no fan of recruiters. "Dear NYC startups, every time a software engineer hears your name from a headhunter, a puppy dies and you lose credibility," he wrote recently on Twitter.
The speed-interviewing events are free for job seekers who pass a programming test, $50 for young startups and $400 for companies.
Hirelite's next speed interviewing event is on January 18 in New York. Companies participating include AppNexus, Squarespace, Shutterstock, Barnes and Noble and ZocDoc. Even hot companies like Etsy have used the service in the past.
ajeffries [at] observer.com | @adrjeffries