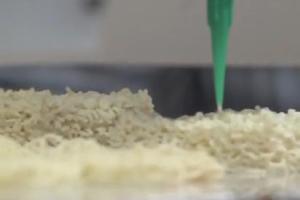 The French Culinary Institute has got hold of a 3D printer that can print food.
It can only print through a syringe, meaning its creations all resemble dried ramen noodles, but chefs are using it to write with icing and create food in simple, stringy shapes. Any liquidy raw food can be used for printing.
The technology behind the machine, developed at Cornell University, is open source.
It will eventually be a household staple, David Arnold, FCI's director of culinary technology, told CNN's Laurie Segall.
"This would be a slam dunk for cookies at holiday time," he said.
The technology is similar to New York's MakerBot, a machine that can generate a plastic mold of almost any shape, up to 4″ by 4″ by 6″. While the food printer uses a syringe, MakerBot uses a plastic extruder, which allows it to build sturdier shapes.
New York entrepreneur Jamil Yosefzai is working on a version to sell to pastry chefs and early adopters. His startup is called Essential Dynamics and he plans to sell the bot for around $1,000 and have it become a household staple within a decade, he said. So, how long until we can print roasted chicken?
ajeffries [at] observer.com | @adrjeffries