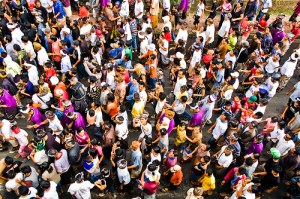 Mike Jones, CEO of News Corp's digital division, is considering a possible spinoff or sale of MySpace a day after the social network slashed its staff in half, Bloomberg reports.
That'll be a tough sale. Who wants to buy a social network that's losing tons of money, just flopped its big redesign and like, isn't even cool anymore?
Myspace has neither the scale nor the utility that would make it attractive to potential buyers like Facebook, MTV or AOL, Om Malik writes.
Myspace's biggest asset is arguably its userbase of somewhere between 50 and 65 million people. Myspace posted a dozen data sets on the data marketplace Infochimps in March, with information on status updates, user activity, apps, photos and more, with prices ranging from $25 to $150. UPDATE: To be clear, the data on Infochimps does not personally identify users. "The data MySpace sells through Infochimps is intended to help someone track certain types of behavior at a bird's eye level, such as how many users are in certain zip codes and how many times a certain word is mentioned on the service. The records in these data sets are completely anonymous," a representative wrote in an email.
If no one offers what Rupert Murdoch considers a good price for the site he bought for $580 million in 2005, Myspace may have to resort to shilling its user data instead. Like many free Internet services, Myspace reserves the right to change its terms of use at any time–so identifiable or anonymized user data could be sold to firms that process data for marketers, for example, or straight some of its famous spammers.
Myspace users still post their moods, thoughts and photos to the site. A visit to the homepage shows a counter that says "3,824,304 people just shared what they're into." It's hard to imagine what advertisers can do with a massive set of updates like "gonna post pics of my new car," but hawking these gems may be Myspace's best bet.
Myspace cautious its users that a deleted profile is irretrievable, suggesting that Myspace anonymizes its user data after a profile is removed.
ajeffries [at] observer.com | @adrjeffries