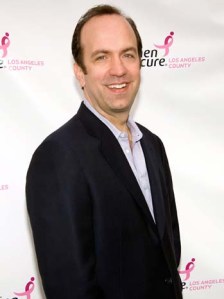 New, maligned ABC News President Ben Sherwood has addressed the springtime rumors that Disney was maybe going to break up with ABC, and that should that happen, ABC News would get together with Bloomberg News, according to the Times' Decoder.
Sherwood was like, I'm down if they're down.
Speaking to television reporters and critics at a news conference in Pasadena, Calif., Mr. Sherwood said he had "nothing to report, no news to break" about rumors of any deal with Bloomberg. But asked if he was thinking about a partnership, Mr Sherwood said, "Of course. How can you not think about partnering with an organization that has had the success Bloomberg has?"
You attract more with honey, we suppose.
Meanwhile, Bloomberg LP has been trying to break up the impending Comcast-NBC Universal marriage. According to Bloomberg News, they filed reports against the deal as it was proposed to the FCC. The FCC has yet to give the merger its blessing, despite Comcast's urging.
kstoeffel@observer.com :: @kstoeffel