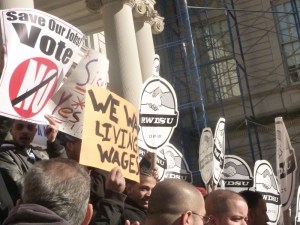 Mayor Bloomberg isn't done yet speaking yet, but already reactions are pouring in.
This is from living wage advocates who are pushing for an increase in the minimum wages required on projects that receive city subsidies.
Dan Morris, of the Living Wage Coalition, is out with a statement arguing that if the mayor really wanted to boost the city's economy he would back the measure.
Working poor New Yorkers are still waiting for the economic recovery the mayor referenced in his speech. His unmatched ability to turn the economy around was how his campaign framed the rationale for a third term but many struggling communities have yet to gain access to decent jobs and would not agree that we are headed in the right direction. The mayor failed to acknowledge that the shared costs of poverty to the city are actually rising as a record number of working poor New Yorkers turn to government for food stamps and other assistance, and contribute less to the tax base and economy. Many of these workers hold jobs in sectors like retail, where some companies are receiving millions in taxpayer subsidies and yet allowed to create low-wage jobs with impunity.

As the city tries to do more with fewer resources, and reduce costs, the mayor should focus on establishing a living wage standard for jobs created through taxpayer subsidies to ensure that public dollars are more wisely invested. The city simply cannot afford to give companies millions in subsidies and remain silent as corporate leaders laugh all the way to the bank while creating low-wage jobs that weaken our economy and keep working people mired in poverty. The public is paying too high a price for so-called economic development. That's why there is growing support for the Fair Wages for New Yorkers Act, a pragmatic bill that would establish a living wage standard for jobs created through taxpayer subsidies and enable more working people to be self-sufficient and contribute greater sums to the tax base and economy, and rely less on costly safety net programs.