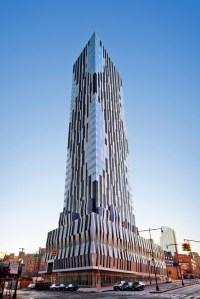 Is Brooklyn one skyscraper short of–the horror!–becoming Manhattan?
That's the impression a feature in the Times gives about the transformation of downtown Brooklyn over the past few years.
One of downtown's new residents, Skip Mooney, bought a unit in Toren last year after 16 years of renting in the West Village. Living in a new building has been good for his allergies, Mr. Mooney, 50, said in an interview. And he called the two-bedroom two-bath apartment, where he lives with his partner Kevin Guyer, a good deal: around $600,000, in a real estate climate that included low interest rates and a 25-year tax abatement.

Still, Mr. Mooney, who 25 years ago lived a few blocks away in pregentrification Fort Greene, says he has stood at his 22nd-story window and entertained some misgivings.

"I just said to myself, 'After 25 years, am I coming full circle and moving back to this neighborhood that I really hated when I lived there?' " he recalled.
That's right folks. Brooklyn truly is a land of no allergies and plenty of anxieties.