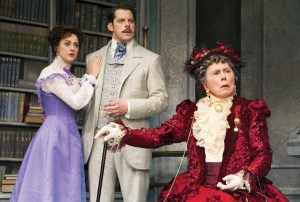 "We have, in New York, the best actors in the world," wrote the estimable Village Voice critic Michael Feingold last week in reviewing Adam Bock's A Small Fire.
The line has since being peering up at us from arts pages, quoted in the play's advertising. It's a good time for it: Mr. Feingold's observation makes a fine epigraph for the past seven days, in which plays showcasing some remarkable acting have opened on Broadway and off, from Lincoln Center to BAM, with talent both local and imported. The plays run from great to good to unfortunate, but in all of them the acting is fantastic.
Other Desert Cities, by Jon Robin Baitz, is the great one. It opened last Thursday at Lincoln Center's Mitzi Newhouse Theater with a first-rate cast that includes some of the best actors regularly working on the stage today, under the expert direction of Joe Mantello. Stacy Keach and Stockard Channing play Lyman and Polly Wyeth, an old-Hollywood couple, friends of Ronnie and Nancy's, retired to Republican WASP rectitude in Palm Springs (on a gorgeous, faux-Neutra set by John Lee Beatty). Elizabeth Marvel and Thomas Sadoski play their kids, Brooke and Trip, she a novelist and depressive, recently institutionalized, and he a reality-TV producer. Linda Lavin plays Polly's sister, Silda, a straight-shooting alcoholic recently out of rehab.
There was another brother, Henry, who committed suicide in the 1970s after his involvement in a radical antiwar firebombing that accidentally killed a janitor. Brooke has written a memoir about him, and his death, and her childhood, and the family, and, back in Palm Springs for Christmas, she asks her parents to read it. The family begins to come apart.
The play is flattering to the aged Upper West Side Lincoln Center Theater audience–its jokes mock Republicans and country clubs and people who chose not to live in New York–but it is smartly constructed, funny, surprising and ultimately deeply moving. Its final twist is devastating, not least because of Ms. Marvel's wrenching performance. Moments like that are why we go to the theater.
Brian Bedford's production of Oscar Wilde's The Importance of Being Earnest–the accomplished Shakespearean actor directs and also stars as Lady Bracknell, the haughty battleship of a mother who disapproves of nearly everything in the play–is meanwhile merely very good.
Wilde's spoof of late-Victorian upper-class manners and mores is a very, very funny play, but it is also a silly one. Everything in it is unserious, set in quotation marks–from the glib dialogue to the ridiculous plot to, at the American Airlines Theatre, where the Roundabout Theatre Company opened Mr. Bedford's production last Thursday, the delightfully goofy, mock-amateur painted-flats scenery. (Both the sets and the amusingly over-the-top costumes are by Desmond Heeley.) The machinations of the plot unspool cleverly, and the one-liners are, as to be expected from Wilde, delicious.
But the story of two men who pretend to be named Ernest and two women who insist they will only marry men by that name works only as high farce, and Mr. Bedford's direction–especially in the first act–keeps the pace too slow to achieve its comic potential.
His acting, though, is not to be missed. He's not the first man to play Bracknell, but he's wonderful in the part. This is no drag show, no camp performance. He musters his classical training to provide a wicked and serious portrait of a domineering and ridiculous woman. The play locks into focus when he enters, aristocratic and annoyed, midway through the first act, and it remains at its best when he's onstage.
Across the East River, a trio of great British actors arrived at BAM to dig into Ibsen's snowbound second-to-last play, John Gabriel Borkman, the tale of a disgraced Norwegian banker–he was caught short-speculating with clients' money–and his battle with his wife and her sister for control of their son, and, therefore, of the family's legacy.
More than a century old, the drama, adapted by Frank McGuiness and directed by James Macdonald, has obvious–perhaps too obvious–resonance for today, though here the son manages to break free of his family, rather than killing himself in a Soho apartment.
But the real pleasure of this production, which is staged by Ireland's Abbey Theatre and opened a week ago at BAM Harvey, is its stars. The reserved and laconic Alan Rickman plays Borkman as a hollow, shattered man, bitter and nearly affectless. Fiona Shaw is his essentially estranged wife, filled with restrained fury and trapped in her marriage, her house, her humiliation. And the electric Lindsay Duncan is her rich and manipulative sister, Borkman's true love.
The play is bleak and cold, but the heat generated by these three is scorching.
Blood From a Stone, a new play at the New Group, is the least successful of the week's openings. An examination of a very unhappy family in blue-collar Connecticut, the playwright Tommy Nohilly's debut work, directed by New Group artistic director Scott Elliott, is sharply observed but tedious and unfocused. But it, too, offers a fine cast doing excellent work.
Ethan Hawke gives a nicely understated performance as Travis, the son who got out, to New York, but is stopping home before he drives west to start anew. He can barely manage life, but he's the calm center of this messy family. Mom and Dad (an expert Ann Dowd and Gordon Clapp) barely speak to each other, and when they do it's only to attack. Brother Matt (Thomas Guiry) is a gambler and petty thief in a crumbling marriage. Sister Sarah (Natasha Lyonne, zaftig and funny) is trying to build a happier and healthier life with her husband and kids. And Yvette (Daphne Rubin-Vega, still gorgeous), the love of Travis' life, is living across the backyard with her own family.
The tension in the family is palpable; the fights are explosive; the house is nearly destroyed. And yet, for all the violence–physical and emotional–in the long play, there's a distinct feeling that nothing really happens. We never learn the source of the family's initial agony; we never get the catharsis of any sort of resolutions. It's never a good sign when the final blackout comes and the audience doesn't applaud, unable to tell that the thing's over.
Daniel Kitson, as he makes clear at the start of The Interminable Suicide of Gregory Church, his brilliant comic monologue at St. Ann's Warehouse, is no actor. He has a stammer, for starters, which occasionally appears as a speed bump in the proceedings. (That he goes on despite it is both "brave" and "heroic," as he told me I should write after noticing my notebook and deducing my profession.) He talks too fast, sometimes rendering his Yorkshire accent indecipherable. And he doesn't act so much as pace the stage, waving his arms in excitement. But he's giving a charming and engrossing performance.
House-hunting near his hometown, Mr. Kitson tells us, he discovers a trove of letters–some 30,000–sent and received over 25 years by Gregory Church, a lonely old man determined to kill himself. This may or not be true–it's unclear whether Church is a real person or Mr. Kitson's creation, or some portion of both–but that's largely irrelevant. Over the course of 90 minutes, Mr. Kitson recounts the two years he says he spent reading Church's letters and piecing together his life. We get to know Mr. Kitson, and Church, and Church's friends and correspondents.
It's a wonderful pairing of subject and performer: Church's letters reveal a witty and insightful scold and an elegant writer; Mr. Kitson's monologue reveals a wry and discursive mind and a virtuosic speaker. His joy in piecing together the man's life is abundant, as is ours in watching him retell it.
editorial@observer.com