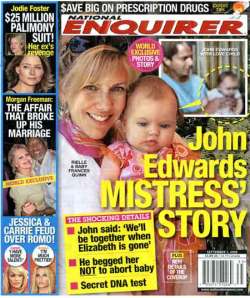 Last week National Enquirer publisher David Pecker was making headlines for announcing furlough days while his CFO Christopher Polimeni rolled up in a new Corvette.
Today Pecker's so flush he's shopping for new titles, according to WWD.
National Enquirer parent company American Media Inc. (AMI), which also publishes Shape, Star, and RADAR, came out of Chapter 11 bankruptcy a little over a month ago. Pecker, CEO of AMI, says he now has $50 million in cash.
Pecker bid on Newsweek, bolstered by the National Enquirer's legitimately consequential Rielle Hunter scoop, and was in the final two with Sidney Harman.
"We didn't get it [Newsweek] because we wanted to move the magazine to Boca," Pecker told WWD. "Also, they didn't like being associated with the National Enquirer. But it would have added something to the magazine. They could have put a spin on politics, entertainment, business, made it more tongue-in-cheek."
He's eyeing Maxim instead–a better fit, considering AMI already runs Playboy's print and online advertising, circulation and distribution operations.
"It would be the perfect complement to what we already do," he told WWD.
kstoeffel@observer.com :: @kstoeffel