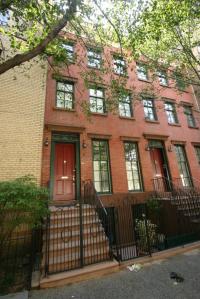 — Another buyer at 1140 Fifth Avenue! Last week week a financier moved in and it looks like another money man has followed him. Charles L. Atwood (perhaps the Chicagoan real estate investor and former Harrah's honcho) has bought a two-bedroom apartment on the forth floor for $1.775 million, according to city records. The seller is artist Cornelia Foss, who now lists an address at 1225 Park Avenue, a rental building.
— Such sweet music! Composers Edward Bilous and Michelle Dibucci have doubled their money on their former Chelsea townhouse, which just sold for $5.25 million to Stephen Biggar, a managing director at Standard & Poor's, and his wife Elisabeth, according to city records. The musicians bought the 1848 redbrick Gothic Revival-style beauty–which has four floors, a roof deck and a garden–in 2004 for $2.46 million, according to StreetEasy. The listing agents for 258 West 24th Street were Brown Harris Stevens' Deborah Gimelson and Edward Joseph.
— Turn up the volume! Bret Disend, the owner of emo label Ozone Entertainment, just bought a 10th-floor two-bedroom at Philip Johnson's Urban Glass House for $1.95 million, according to city records. The seller is Ellen Simon, who bought the 1,717-square-foot unit in January 2007 for $2.9 million. A million dollars discount? How could 330 Spring Street have gotten so smudged? Perhaps James Gandolfini's nightmares are coming true and the planned garbage depot next door is ruining Hudson Square's real estate values after all.
— The chaos is over! The Times' Big Deal column last week was about The Sheffield, the condo-conversion that spiralled out of control like so many projects after Lehman Brothers collapsed before rebounding mightily last year. Slightly more than 50 percent of the buildings units are now sold, according to The Times, and among them is one just purchased on the 41st floor by Irwin Ostrega, owner of Lithomatic Business Forms, who bought the unit with his wife Tikva for $2.12 million, according to city records. The two-bedroom was asking $2.29 million in November and originally listed a month before that for $2.49 million.
Read past In Deed! coverage here. >>