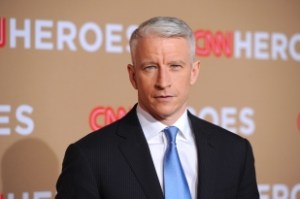 Anderson Cooper is more than just a newsman. He takes on the morning show crowd, hangs out with SJP at Fashion Week's biggest runway shows, and generally extends himself well beyond the anchor's desk.
And now he's coming to Broadway, the AP reports. Or, at least his voice is! The CNN anchor is lending his tenor to the production of "How to Succeed in Business (Without Really Trying)" that opens in late March at the Al Hirschfeld theater. But it'll be words and nothing more — his sonorous voice will provide the narration for the revival, giving insight into the thoughts of star Daniel Radcliffe.
Though the "role" is prerecorded, don't underestimate the power of Anderson Cooper's presence. He'll be on the air and in the theater at the same time.
Click for Scandal Report: Everything Will Be OK, Taylor Swift >>