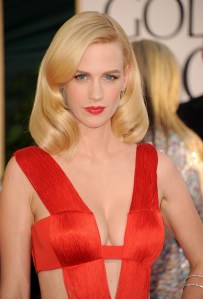 The Internet was awash with reactions to the looks that graced the red carpet at last night's Golden Globes, and it's become increasingly difficult to siphon out the quality round-ups from the misguided and the knee-jerk ones. But André Leon Talley is a man we can trust. The Anna Wintour confidant and Vogue contributing editor took to that magazine's website last night to set the record straight.
Who stunned? Who flopped? Let's run down the line:
Nicole Kidman: "Wearing elegant white sequin Prada."
Olivia Wilde: "Bustier bombast of tulle and sparkle and perfectly combed hair."
Natalie Portman: "Comfortable, modern elegance. Loved it."
Tina Fey: "Gorgeous midnight-in-Paris blue L'Wren Scott velvet column."
Sandra Bullock: "Super sixties cool."
January Jones: "In a league of some of the best dresses ever seen on the red carpet."
Michelle Williams: "In a nude daisy-chain appliqué Valentino—such an original choice."
Tilda Swinton: "Impeccable glide and beautiful posture."
Angelina Jolie: "A bit of a matronly choice, and the slightly extended shoulders didn't help. Why would arguably the sexiest star in Hollywood go for something that looked as if it had been recycled from the back lots where Adrians or Orry-Kellys might have been discovered at the last minute?"
One of these things is not like the others! In the middle of an almost overdone outpouring of praise, André throws Angelina under the bus, offering some pretty damning critique in the middle of a softball fashion summary.
André saved the only other damning criticism for Helena Bonham Carter: "Her Vivienne Westwood lamé and a haze of tulle and point d'esprit and James Dean-style sunglasses, was the evening's train wreck."
Hey, there's always next year!
SLIDESHOW: Check Out The Best Looks From This Year's Golden Globe Awards