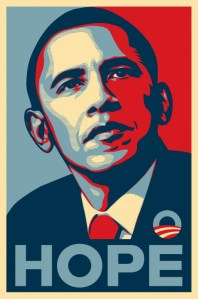 Obama "Hope" poster artist Shepard Fairey and professional Obama photographers the Associated Press settled one of their copyright infringement lawsuits today, reports paidContent. You may remember when the entire country was plastered with the red, white and blue image. It had clearly used a photograph of Obama under the AP's copyright as a reference.
Although the financial terms of the settlement were not disclosed, the bones of the agreement have this weird, middle-school-peer-mediation ring to them.
The two sides will share the rights to make and sell the Obama Hope posters, which Fairey created during the presidential campaign by stenciling an AP photograph of the candidate. In addition, Fairey and the AP will collaborate on a series of images that Fairey will render based on AP photographs.
Shepard "Too Radical For The Municipality of Boston" Fairey is going to team up with the man AP? Quel sell out.
But wait: They will remain adversaries a little longer as "the AP's copyright infringement lawsuit against Obey Clothing, the marketer of apparel with the Hope image, will still continue," the AP told paidContent.
Hmmm. So everyone's favorite anti-capitalist appropriation artist was making bank shilling tee-shirts that advertise the decade's solitary, flickering moment of youth political passion?
Game AP.
Stolen or inspired? Click through for more copy cats, from Pepsi to Precious.>>
kstoeffel@observer.com :: @kstoeffel