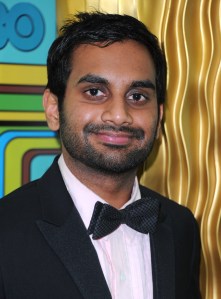 Aziz Ansari, the reigning funniest man on the planet, is not one to be trusted on Twitter. For instance, last week he spent the day fake-retweeting Whole Foods and L.L. Bean (the clothier never said "your comedy sucks dick Aziz").
But when he told his 600,000 followers of a trip to Tokyo with LCD Soundsystem mastermind James Murphy and Momofuko overlord David Chang, he wasn't joking. The chef scouted sushi joints, while the other two hit the karaoke scene. Aziz sang The Backstreet Boys' "I Want it That Way" and James sang Hall & Oates' "I Can't Go For That." This actually happened.
How did this dream team come together? And how did they decide to take that island country halfway around the world by storm? Well, Aziz enlightens us in an interview with Splitsider, conducted in advance of tonight's season three premiere of "Parks and Recreation."
It was crazy. I was with those guys and we were hanging out, and James had just gotten back from Tokyo and we were just talking about how fun Tokyo is, how much we love Tokyo, and it was late at night and we had a few drinks and someone took a photo and I just put it online and was like, on my Twitter, and was like, Hey if anyone wants to send us to Tokyo to eat food we'd be totally down. And then a few days later, the very kind people at GQ magazine were like, We really want to do this. And we were like, What! And they were like, Yeah!
Then Splitsider editor Adam Frucci has a brilliant idea: milk Aziz's crowd-sourcing power to get him into the final frontier.
Adam: I'm sure you could get a ride on, you know, the Virgin Galactic spaceship if you tweeted about it.

Aziz: Yeah, that's a good idea. I probably have like a three-month window where people will actually care about me enough to do that. I'm always operating under the assumption that my time is running out. People are going to get tired of my schtick pretty soon, so I gotta get it while I can.
And the social networking campaign to get Aziz Ansari into space starts… now. You listening, Richard Branson?
Click for What Twitter Taught Us: Glenn Beck Meets Bono and the World Collapses