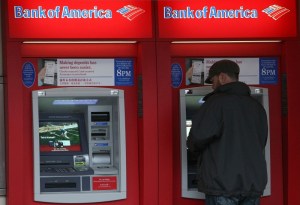 Investors appear excited this morning over Bank of America, the bank that epitomizes the old adage, "More assets, more problems." The Charlotte-based financial giant announced this morning that it has agreed to resolve repurchase claims by government-sponsored entities Fannie Mae and Freddie Mac over allegedly faulty mortgage loans assembled and sold to the GSEs by BofA's Countrywide Financial. Shares were lately up a giddy 4.3 percent on the news.
BofA said that it intends to take a fourth-quarter provision of about $3 billion as part of the agreement, and with that, the company believes it has "addressed its remaining exposure to repurchase obligations for residential mortgage loans sold directly to the GSEs." The company expects to take a non-cash goodwill impairment charge of $2 billion as a result of these actions.
Compared with the worst-case scenario, BofA got off pretty light. The company had pegged its exposure to the GSE putback claims somewhere around $6.5 billion in October. Sure, this settlement isn't the hand-to-hand brawl the bank had previously promised to investors, but the firm had already backed away from that hardline stance. And before we get carried away, there are still some problem areas remaining for BofA even in the wake of this announcement, per Bloomberg:
The agreements don't cover loan servicing obligations, other contractual obligations or loans contained in private label securitizations.
The private-label segment of Bank of America's putback exposure is a hazy risk area, even by the bank's own reckoning. The putback apocalypse hasn't entirely faded with the passing of 2010, but Bank of America appears to at least be getting proactive about the situation in the new year.