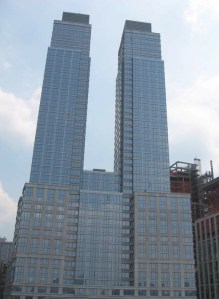 Score another win for Big, Bad Gary Barnett.
A State Supreme Court judge ruled yesterday that a case against the attorney general's office filed by Barnett could not be dismissed, according to The Real Deal. Buyers want out of their contracts at The Rushmore, one of Barnett's Riverside South developments, but Barnett charges that this was simply a clerical error and no one gets out. Barnett's Extell development named Andrew Cuomo in its Article 78 suit after the former attorney general ordered Extell to refund deposits for 41 buyers.
The case, which will now be decided by another court, is now under the purview of incoming Attorney General Eric Schneiderman, who is preparing for the latest court fight, along with the attorneys from the other side:
Lawyers from the buyers, surprisingly, welcomed the ruling, stating this will allow the judge to make a final ruling on the merits of the case. "We find it a positive development, so the court can move more quickly in resolving this case in favor of the purchasers, by upholding the AG's determination," said Richard Cohen, attorney for 33 of the buyers.

Lawrence Weiner, who represented three buyers at the Rushmore, said he was "eager for the court to now address the merits of the AG's determination in favor of the purchasers."

A spokesperson for AG Eric Schneiderman, who was voted in to succeed Cuomo, had no comment, but sources familiar with the case said they expected the AG to "vigorously" defend its claim.
Maybe this is why Gary Barnett was not among the top real estate donors giving to Cuomo's gubernatorial campaign.
Correction: A previous version of this article mischaracterized the nature of the case against Cuomo.
mchaban@observer.com