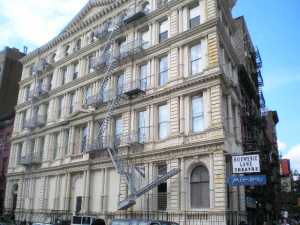 Another penthouse on boffo Bond Street is gone.
In 2007, Adam Gordon bought the old Bouwerie Lane Theatre, that beautiful white cast-iron building at the corner of Bond and the Bowery, and reinvented it as a condo. Then, last month, The Observer broke the news that three of its four homes had been sold, and only the penthouse remained.
Now Jennifer Gould Keill reports that Rob Heyvaert, a dashing Belgian businessman, has bought the unbelievable 4,863-square-foot four-bedroom spread, which was last asking $14.45 million. "It has the feel of a real family home in the middle of Manhattan–and we just added twins to our family," Heyvaert tells the Post.
Will Smith grabbed the top unit at 25 Bond Street last month, and Ian Schrager has lived in the penthouse at his 40 Bond Street since he finished the fabulous building. That leaves only 48 Bond still on the market. Act fast before the next richie rich beats you to it.