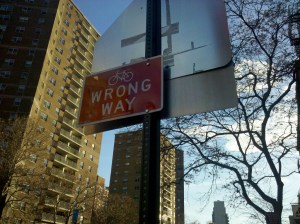 It's nothing new that cyclists and the NYPD don't exactly get along, but there could be a lot more confrontation now that the called-for crackdown on bikes is "weeks away," according to the Brooklyn Paper.
The NYPD has been ordered to begin a borough-wide crackdown that will hit renegade riders for often-overlooked "vehicular offenses" like failing to obey traffic signals and signs, breaking the speed limit, tailgating, and even failure to signal before turning.

Several police sources said on Tuesday that the strict enforcement of safety and vehicle traffic laws – which apply the same to cars as they do to cycles – will begin in a matter of weeks, and that bicyclists caught breaking those rules will be issued a moving violation.
That means no rolling stops, no riding the wrong way, no BUI. They might even makes stops for failing to signal turns.
Cycling advocates agree this is all well and good, so long as drivers experience equal enforcement. Reckless drivers pose a greater threat, perhaps, if a lesser annoyance than reckless cyclists, but to scapegoat them is unfair, bike boosters say.
At least one sharp-tongued cyclist, Baruch Hertzfeld, expressed doubt in the NYPD's abilities to carry out its new duties. "Mayor Bloomberg will have as much luck getting the NYPD to enforce these violations as he did getting the Sanitation Department to shovel this past snowstorm," he told The Brooklyn Paper.