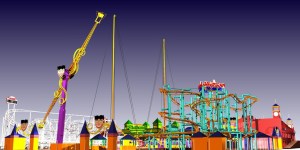 Last summer saw some of the highest attendance at Coney Island in decades, thanks in large part to the reopened Luna Park. Now, the city and Italian amusement operator Zamperla are hoping to reach new heights with two rollercoasters and a slew of other thrill rides at Scream Zone, a new mini-amusement park set to open this summer.
Zamperla announced today that the $12 million project has broken ground and will be ready for

an April opening with the first coasters Coney has seen in eight decades.
"We are proud of the historic success of Luna Park and look forward to further contributing to a resurgent Coney Island with Scream Zone," Valerio Ferrari, president of Zamperla subsidiary Central Amusement International, said in a statement. "With brand new thrill rides — including two major roller coasters — adding to the 19 attractions at Luna Park and other amusements throughout the neighborhood, we are confident that Coney Island's place as America's Playground is once again secure."
The Scream Zone will double the size of Zamperla's amusements to six acres of ocean-side enjoyment. It includes a slingshot ride and a torpedo ride as well as the two new rollercoasters: the Steeplechase, a standard coaster design that pays homage to Coney's oldest amusement park, and the Soaring Eagle, a suspension coaster. Such thrill rides are meant to attract an older audience than the crowds that frequent Luna Park, which has simpler carnival-style rides.
There are thrills of another sort awaiting Zamperla in court, where the Coney 8, a group of local businesses that have been ousted from the boardwalk, continue to fight their eviction. Perhaps they could consider going to work for Zamperla, as Coney-centric blog Amusing the Zillions reports the company is now hiring for summer staff at Luna Park.