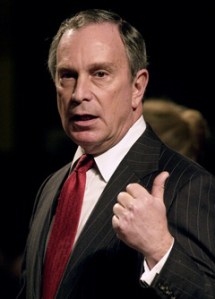 Mayor Michael Bloomberg is up in Albany today, along with the rest of the known New York political universe, and he stopped by new Senate Majority Leader Dean Skelos' office for a brief chat before Andrew Cuomo's State of the State speech.
And afterwards he told a press gaggle that he was "proud" that the G.O.P. took control of the Senate.
"I thought that if you take a look, it was a disgrace what happened in the last couple of years in the Senate. I think most people regardless of party think that. I've known Dean Skelos for a long time. He is a substantive guy, he is a serious guy, he is an honest guy. He probably won't vote the way I want him to every time but that's okay," Bloomberg said.
The mayor has long been a big donor to Senate Republicans, pouring in over a $1 million before 2008 to help them keep the majority, and as Adam Lisberg reported last month, wrote a $650,000 check to Skelos to try to help them win back the chamber this year, even as Bloomberg campaigned for individual Democratic state Senators.
The mayor also brought along Cathie Black to meet with Skelos, calling her "our great schools chancellor."
Black has officially been on the job for four days now.
Bloomberg was also asked about remarks Cuomo is expected to make today about an overhaul of the juvenile justice system. The mayor wants the state to turn over the inefficient system to the city. Current law requires that the state leave a facility open for a year after deciding to close it, mainly as a way to provide jobs for upstate communities.
"I think the governor is right on a lot of these things," Bloomberg said. "The closure law just spends an awful lot of money that the state doesn't have, and the city pays for part of that, we don't have. While I understand the employment issue, jails should be near where the families of the incarcerated are because if you are ever going to get these people back on the streets without having them revert to crime, families are part of the solution. And that would make a big difference, and also the state has too many facilities and the city has to pay for all of them," he said.