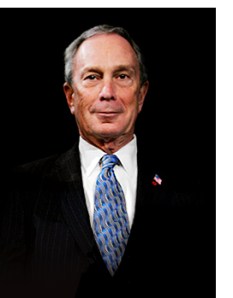 Mayor Michael Bloomberg received a warm introduction from the Rev. Al Sharpton at the National Action Network's annual Martin Luther King Day event, with the civil rights leader praising the mayor's approach on guns, education, and juvenile justice.
But Sharpton's congregation wasn't nearly so pleased. Some of the few hundred people who crammed into his House of Justice booed the mayor heartily for several seconds before he spoke and heckled him from the audience during his speech.
At first, Bloomberg tried a little humor. He turned to David Dinkins, who was sitting on the dais and who earlier had joked that he had trouble getting past the crowds at the front door to get into the building. Bloomberg teased that he had no trouble getting in the back door because "[Sharpton] and I agree on more than you and he agree on."
When that fell flat, Bloomberg tried out a little ethnic humor
"It is also amazing here in New York that [32BJ President Mike] Fishman and Bloomberg would be addressing the National Action Network. It is like [Jeff] Zucker and [Jerry] Speyer and Bloomberg lighting the Christmas Tree this year at Rockefeller Center. Only in New York would you see something like that."
Afterwards, Bloomberg delivered a wonky, policy-filled address that touted the administration's efforts to combat gun violence, his plans to reform the juvenile justice system and their work to remake the city's school system.
It was this last data point that brought out another round of Bronx cheers, especially after the mayor touted the city's improved graduation rates and test scores.
"I know everybody complains, everybody says that the test is easier, this that and the other thing. Make no mistake about it: President Obama and his secretary Arne Duncan think that New York City is the national model for what you do with the school system," the mayor said as he was interrupted by catcalls and shouts of "No they don't."
"We are not going to walk away from that. With the help of Al and the National Action Network I know that you will help us succeed."