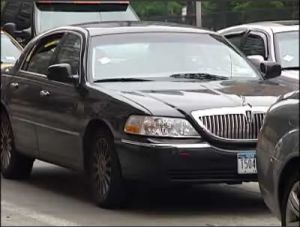 Mayor Mike Bloomberg is expected to roll out expanded livery service in the outer boroughs during tomorrow's State of the City address, according to City Hall sources.
The plan will call for livery drivers who choose to participate to be able to outfit their cars with meters that allow them to pick up passengers on outer-borough streets. Cars so outfitted will have a special marking or color that allows those seeking rides to know that they are getting into a metered vehicle.
In his prepared remarks for tomorrow, Bloomberg is slated to say, "And why shouldn't someone in Queens, Brooklyn, the Bronx, or Staten Island be able to hail a legal cab on the street? This year, we'll establish a new category of livery cars that can make on-street pickups outside of Manhattan – just like yellow cabs do. It will give New Yorkers in all five boroughs another safe, reliable and convenient option for getting around. Because whether you're standing on 42nd Street in Manhattan, or 42nd Street in Sunset Park, Brooklyn, or 42nd Street in Sunnyside, Queens, you ought to be able to hail a cab."
The administration notes that there is a serious need for streetside pick-ups in the outer boroughs but (as anyone who actually lives there can attest) very few taxis cruise for passengers outside of Manhattan. Currently there are a limited number of taxi medallions available and they are prohibitively expensive, costing up to $600,000. Increasing livery service is expected to increase safety for both drivers and passengers and help the city's green agenda, since it could mean that less New Yorkers will have cars.
The measure is also something of an outreach to the outer boroughs. Residents there have accused the administration of ignoring them, especially in light of the response to last month's blizzard.
The proposal is also another big ticket item for Taxi and Limousine Commissioner David Yassky, who is quickly becoming one of the more visible TLC heads in the city's recent history as he weighs whether or not to jump back into the political fray.
At his news conference this morning, Bloomberg was asked about tomorrow's address, and he remained coy.
"I'm going to talk about the challenges that we have ahead and the goals that we have for next year, and what we've accomplished since last year. I've always tried to take it back and say what we said we'd do, and whether we'd done it or not. We've got some new ideas to benefit New Yorkers we think. I'm going to try to be as honest as I can with the reality that we face. It's not going to be the Executive Budget, but it will be a description of what's going on," the mayor said.
The address will be at St. George's Theater in Staten Island.