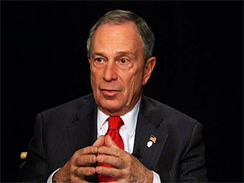 Mayor Michael Bloomberg appeared on the CBS Evening News last night to keep up his push for tighter gun control restrictions, in the wake of the shootings in Arizona earlier this month.
"Giving people the right to be safe and not to be killed on their streets is what elected officials' primary job is," he told Katie Couric.
Bloomberg said the first priority should be to make existing legislation more effective, and he decried the lack of funding for a federal database that tracks people with mental health issues. As the mayor noted, states are given relatively meager financial incentives for reporting these names, and ten states have contributed no names at all.
"We allow people to buy guns that we will not allow to get on an airplane," he said.
Bloomberg has been trying to spark a national conversation about gun control since the shooting of Congersswoman Gabrielle Giffords and 18 others earlier this month. But, as I wrote in last week's Observer, most of the national political leadership has ducked the divisive issue.
Yesterday morning, at a press conference with dozens of victims of gun violence, Bloomberg called on President Obama to mention gun control in tonight's State of the Union.
"If the leadership on both sides of the aisle, and both ends of Pennsylvania Avenue, talked about how this has just got to end, you would find the American public rallying behind them," he said last night. "The fact that they don't, the fact they're afraid maybe — I don't know why — but the fact that they do not say, 'This is a wake up call and we've got to stop this carnage,' then the public doesn't get behind it. The public doesn't understand. The public looks to our elected officials for leadership, not to the results of a poll."