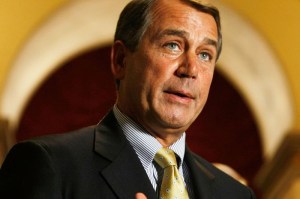 Senator Kirsten Gillibrand, Florida Congresswoman Debbie Wasserman Schultz, and former Speaker Nancy Pelosi were in Rep. Gabrielle Gifford's hospital room when she opened her eyes. The entire Arizona delegation, including President Obama's 2008 rival Sen. John McCain and his wife Cindy, were in the stadium watching the President console 14,000 mourners. Michelle Obama held tightly onto Gifford's husband Mark Kelly's hand.
But where was Speaker John Boehner? Politico reported this morning that the newly elected leader of the House turned down an offer to ride on Air Force One with the President and other officials to the Arizona ceremony to honor the victims of Saturday's fatal shooting. Instead, he stayed in Washington to host a reception for Maria Cino's bid for RNC chair.
The move was met by criticism by anonymous Democratic sources who said that it was a partisan misstep by the new Speaker.
"It is disrespectful for Speaker Boehner to skip joining the President's and bipartisan congressional delegation to the Tucson Memorial so he could host a Washington D.C. cocktail party for RNC members," said the unnamed Democratic leadership aide.
Boehner has been a major Cino supporter and spent time last week calling members of the Republican National Committee on her behalf. Both Cino and Boehner worked in the George W. Bush administration and have been involved in the RNC for the past decade.
The election of the new RNC chair will take place Friday. Current Chairman Michael Steele is running for reelection but faces four challengers.
Cino has the lowest number of public endorsements of the five candidates for chairperson. She received early endorsements from former RNC chair Ed Gillespie and former Vice President Dick Cheney, but they have not put her at the head of the pack.
Aside from those big names, Cino's main support base has come from her home team. The Buffalo native is the favorite of the New York Republican Party and chairman Ed Cox released a statement on her behalf in December.
"I am proud to support native New Yorker Maria Cino to be our next Chairman of the Republican National Committee. The RNC faces massive debt, a brain drain, a Presidential campaign on the horizon and other serious challenges," he said in the statement.
"Frankly, no one is better than Maria at stepping into a challenging situation and turning things around."
The New York Republican delegation joined Cox in his support, claiming that her extensive political career has given her the experience that is needed to lead the RNC to victory in 2012.
"Maria offers two decades of experience and know-how to turn our national committee around and execute during a critical presidential and congressional cycle," the delegation wrote on the joint statement.
"Maria's national political experience is unparalleled. Her organization and fundraising skills are world-class. We all know what is at stake in 2012. We also know that our party is unprepared for the campaigns that lie ahead. Saddled with a historic debt, an expensive convention to plan, and a total rebuilding of our Victory programs, we are confident that Maria can once again save our party."
Michael Caputo, the New York Republican political strategist who ran Carl Paladino's failed campaign for governor, tweeted his support two weeks ago.
"@MichaelRCaputo: Today Buffalo's Maria Cino sure sounds like the most rational, credible & visionary candidate for National GOP chair. #nygop #rncdebate #rnc"