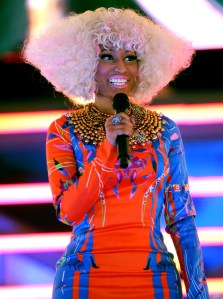 Nicki Minaj was that rare thing on this week's Saturday Night Live — a musical guest who overwhelmed the show's host. With the milquetoast Jesse Eisenberg hosting, Minaj not only rapped/sang/posed to "Right Thru Me" and "Moment 4 Life," two treacly singles, but also appeared in a sketch and a digital short.
While musical guests on the show often perform comedy (Cee-Lo Green joking with Gwyneth Paltrow earlier this month, the likes of Taylor Swift and Justin Timberlake hosting), it's rare for a musician's persona to be so thoroughly at the center of an episode when he or she is not hosting. (Minaj's prodigious posterior was the point of the "Bride of Blackenstein" sketch, and she rapped with Andy Samberg about doing the "Creep.") One would have to go back to Lady Gaga's stagey catfight with Madonna in 2009 to find an instance of SNL so playing up its musical guest's comedy chops. But Gaga was by then a hyper-household name — she debuted a few bars of "Bad Romance" on the show during the musical segment, during a medley with other hits. The average American's interest in "Moment 4 Life" — or other tracks off Minaj's "Pink Friday" album — isn't at that level, yet (though the album has charted well).
Especially by comparison with Jesse Eisenberg, Minaj has enough persona to anchor an episode of SNL. Minaj seemed far more engaged in her digital short guest rap than in singing the ballads she's staking her musical future on, and it's an open question as to which future she'll choose: the weird girl in the wig rapping about sexy corpses, or the singer who's a bit bored by her own music. What has made Gaga so compelling is that she managed, in time, to merge her music with a seemingly un-commercial image — Minaj isn't there yet. Gaga is also an exciting live performer, and Minaj, while an able comedian, isn't there yet, either.
ddaddario@observer.com :: @DPD_