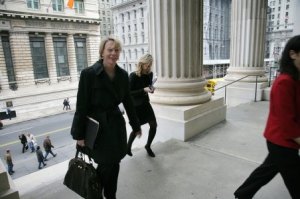 Whoops!
It took only two weeks for new schools chief Cathie Black to make her first gaffe and have parents howling.
As Rachel Monahan in the Daily News reports, at a task force on school overcrowding Thursday night, Black had a novel solution to the problem of too many students that is plaguing city schools.
"Could we just have some birth control for a while?" she said "It would really help us."
As DNA.info pointed out, Lower Manhattan–where the meeting was held–will need another 1,000 elementary schools desks by 2015 in an area where available real estate is hard to come by.
And since the 2015 school year is only four-and-a-half years away, even birth control, at this date, would not ease the overcrowding problem.
On John Gambling's radio show today, Bloomberg had high praise for Black.
"You do not criticize Cathie Black for her work ethic," he said. "This woman works as hard as anybody I've ever seen."