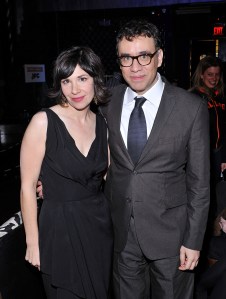 There was flannel everywhere.
It was the premiere of "Portlandia," the sure-fire TV hit from Fred Armisen (of Saturday Night Live fame) and Carrie Brownstein (of now-defunct rock heroes Sleater-Kinney), and everywhere we looked we were greeted with a wash of that plaid-heavy cozy super-nineties fabric, flannel.
The bartenders serving up Portland's own Rogue Ale? Wearing flannel. The caterers swooping around with balls of organic goat cheese and grass-fed beef sliders? Wearing flannel. Many of the people in the crowd from Portland or associated with Portland? Wearing flannel.
And with pine trees and giant drawing of birds lining the space, the Edison Ballroom did indeed feel redolent of that Pacific Northwest city that gets lovingly mocked in the show.
"It's like my escape," Armisen told The Observer about Portland, the place that bears more than a passing relationship to the vigilantly, outlandishly eco-conscious world of Portlandia. "I go there, and I feel really good when I'm there."
He paused to grab an hors d'oeuvre, a chicken skewer placed on a wooden tray that stated the name of the organic farm where the chicken was raised. The chicken, the sign claimed, came from Aliki Farms. This may have been a joke: in the first episode of "Portlandia," which will air on IFC this Friday, Armisen and Brownstein have to ask the waitress to hold their seats at lunch while they personally visit Aliki Farms to ensure that the restaurant was not lying about it being a suitably organic environment.
"This is an opportunity to be silly, and to explore absurdity — things that I would never want to marry to music," said Brownstein, whose former incarnation as guitarist in Sleater-Kinney confirmed her spot in the canon of Portland rock.
Armisen's keeping his day job on SNL, so many of the castmates (including current squeeze Abby Elliott) showed up to take in the show, which consists of a series of short, uproarious skits. When they first saw each other Andy Sandberg and Seth Meyers embraced in a fully minute-long bro hug, complete with backpatting and ear-talking. Cast members from SNL's metafictional counterpart showed up as well — Jack McBreyer, for instance, had more conversations with preening pretty girls than Kenneth has had in his entire life (though we did see him leave early and alone).
Kyle MacLachlan was also on hand, having filmed a spot for the show in which he plays the super enthusiastic mayor of Portland. It's a casting move that's genius to anyone familiar with "Twin Peaks."
"In Fred's mind maybe I lent a little bit of, uh, authenticity to the proceedings," MacLachlan told The Observer.
Standing and chatting in an olive-green dress, Heather Graham explained how she scored her role as an unwelcome member of a journaling group at the feminist bookstore.
"[Fred] kind of pitched an idea, but it wasn't totally written out," she told The Observer, mentioning that the skits are often just improvised.
Then she complimented our outfit, insisting that we looked like "a character out of Franny and Zooey."
The organic crab cakes begat organic apple pie pastries, and many of the guests went out to claim their gift bag (You get a big bottle of Rogue! You get a big bottle of Rogue!) and depart.
But we wanted to get some hints as to what we can expect from the future of Portlandia, so we asked Fred Armisen who, if anyone, would be his ideal guest star on the show.
"I wish Prince would host," he said. "I think he could play anybody."
Mulling this over, Armisen then said he would put in a call to Prince's agent the next day.
Click for What Twitter Taught Us: Glenn Beck Meets Bono and the World Collapses