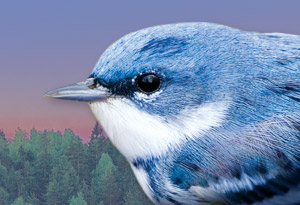 The cerulean warbler–small, blue, North American songbird with its population in decline–is having a moment.
2010 offered the book industry no (living) break-out star. It seems, however, that in the cerulean warbler, benevolent celestial body Jonathan Franzen gave us a literary figure on which future books can ride his bestselling wake.
An astute tipster pointed us to the January 3 sale of Cerulean Blues: A Personal Search for a Vanishing Songbird, by Katie Fallon. It is the memoir of "a young Virgina Tech professor, [who], reeling from the shootings there, seeks solace and science in a quest to interact with this beautiful, rare bird, following it from the Appalachians to its breeding grounds in South America," according to Publisher's Marketplace.
The same bird is the hypercolor cover model of Franzen's ubiquitous Freedom.
Although he'd been working with the book long before Freedom was published, Fallon's agent, Russell Galen of Scovil Galen Ghosh Literary Agency, couldn't say the timing of its sale was a total coincidence.
"The book would have sold anyway, but Freedom may have been its coup de grace," he told The Observer this morning.
Though central to Freedom's story, the warbler is far from its white whale. The warbler is simply the "poster bird" for leading man Walter Berglund's semi-subversive population control campaign, enacted under the guise of creating a warbler sanctuary for a bird nut Neo-Con with his own, more nefarious ulterior motives. Franzen, an amateur birder, previewed this "bird problem," as well as some of the material of Freedom, in an autobiographical essay originally written for the New Yorker (and available on Oprah's site), though he never mentions the cerulean warbler.
A birder himself, Russell Galen was able to elaborate on the allure of the cerulean warbler, for readers who might have, um, skimmed those parts of Freedom in order to get back to Richard Katz.
"I've been under the spell of these birds for many years," he told us.
He explained, "It's a beautiful bird, but there are many beautiful birds. The color is a faint, almost intangible blue, not the brilliant incandescent blue of the bluejay. There's something about the cerulean color that makes you want to protect this bird. If it were a woman you would want to take care of her."
The fragility of the blue is made more poignant by the fact that the warbler is in reality an endangered species, he added.
Given the warbler's vast metaphoric potential, we recommend even non-birding readers take a gander at Cerulean Blue when it comes out from Ruka Press in Fall 2011. We have a feeling it's not really about the bird.
kstoeffel@observer.com :: @kstoeffel