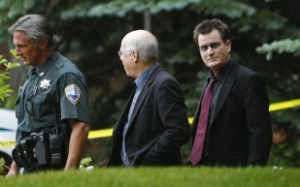 Yesterday came word that Charlie Sheen would finally curb his wild ways. What digressions is Mr. Sheen guilty of? Well, there was the meltdown at The Plaza. There was the "wild boar" incident with a side of "snow peas" at the swank restaurant Daniel that had nothing to do with any dish on the menu. And then there was the self-deprecating cameo in Wall Street 2: Money Never Sleeps.
That's all over now, CBS claimed. Charlie Sheen is a professional, CBS claimed. Any absence — regardless of how suspicious it looked — is due to an ear infection, CBS claimed.
Well, folks, the altar boy shtick is up! The New York Post has it that our drug-abusing alcoholic mess factory took Vegas by storm. And when The Charlie went to Vegas the inevitable happened: he iPhoned a stripper from his AOL account.
The lucky girl was Ginger, from CityVibe — "Your one stop source for Las Vegas escorts!" says the web site, which we won't link to.
But unfortunately for Ginger, she was the victim of deception. This is the not-so-truthful email she received from the AOL account of Charlie Sheen: "U are fabulous. I'm an A-list actor you mite [sic] like to meet."
No, Charlie Sheen, it is not 1988, and you are not an A-list actor anymore. Making mad bank from a television show syndicated precisely because of its mediocrity does not increase your cred. You lied to a woman, Charlie Sheen.
Also, get rid of your AOL account. Who even has those anymore?
Click for Scandal Report: Everything Will Be OK, Taylor Swift >>