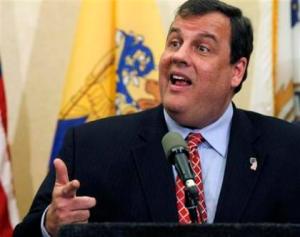 That paragon of politeness on the other side of the river, Gov. Chris Christie of New Jersey, appeared on "Morning Joe" today and had a delicate answer for Rudy Giuliani's criticism of his staying in Florida during the snowstorm last month: shove-off.
"Rudy is wrong on this one," Christie said. "It's easy to sit in the peanut gallery and shoot away, which is what Rudy is doing. I guess when you are retired and out of politics its easy to come on these shows and shoot away."
Earlier Giuliani appeared on the show and said that he thought it was wrong for Christie to vacation at Disneyland while New Jerseyans dug out.
"Yea, Chris should have come back," Hizzoner said. "They elect you governor, they got an emergency, they expect you to be there. You got to be there if you are a governor, mayor or even president."
Not content however to merely insult one New York City mayor during his brief appearance, Christie also had some choice words for Mayor Bloomberg:
"Here's the difference between what happened with me and Mayor Bloomberg. Mayor Bloomberg was criticized for the substance of it. He was here. He was on the ground. The job wasn't done. In New Jersey nobody said the job wasn't done. In fact in New Jersey the job was done and done well. And it was done well because we put a good group on the ground."
It is worth noting that the hosts did not ask Christie anything about Mayor Bloomberg.
Take a look:
Visit msnbc.com for breaking news, world news, and news about the economy