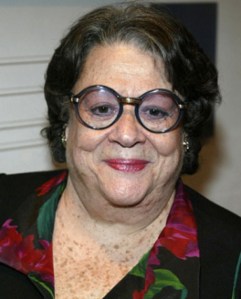 Elaine Kaufman had 400 custom-made dresses and ran a restaurant internationally famed for a heady sort of Upper East Side glamour. Her penthouse around the corner was comparatively unremarkable.
Kaufman, who died in December, left her eponymous restaurant at 88th Street and Second Avenue to its manager, Diane Becker. But her 86th Street co-op could be sold to pay estate taxes and several bequests, according to her will. (Ms. Becker, for her part, told The Observer she was not aware of any decisions regarding the apartment.) There's no record of when Kaufman bought the apartment or what she paid. Nor do we know how much it would be listed for, but a 14th-floor duplex in the building sold for $1.9 million last spring and the building's pricier listings usually ask around $1 million.
Corcoran broker Patricia Carbon, who's sold numerous apartments at 425 East 86th Street and also lives there, said people who move in tend to stay and often end up buying neighboring units and combining them. She said there are about 75 apartments and that it's a close-knit community. "People certainly knew Elaine was our neighbor," Ms. Carbon said, "and were saddened at her loss." Ms. Carbon described the building as "low key" and said she occasionally chatted with her famous neighbor on the elevator, but otherwise rarely saw her.
"I don't have people over," Kaufman, an avid TV watcher, told The Times a couple of years ago. The apartment featured a 100-year-old slot machine and a Major League baseball courtesy of George Steinbrenner.
Ms. Carbon and Douglas Elliman's Valerie Portny, who also has a listing in the building, both said they had not yet heard who had been tapped to sell the apartment. "I'm very curious who they're going to give it to," Ms. Portny said. "She was a very well-connected woman." Meanwhile, the possible sale of such a modest apartment has aroused little stir amongst the Upper East Side brokerage set. "I doubt it was anything grand," said one broker. Another broker thought Kaufman was still alive.
lkusisto@observer.com