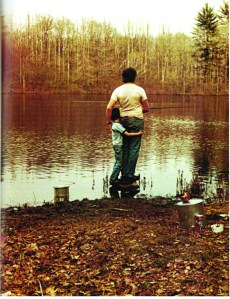 Midway through Dave Itzkoff's new memoir, his father, seemingly high on cocaine, calls his son and asks him to mediate a family dispute. The author, sick of his addict father's antics over the years, responds by hanging up on him and, we are made to believe, ending or at least severely curtailing the relationship. The exchange that ensues as the next chapter opens illustrates perfectly what's wrong in this undercooked, self-solemn book.
Mr. Itzkoff's mother, stepping in to mend fences, tells him, "I think you and your father should go into therapy."
After a metaphor-fogged paragraph of exposition in which Mr. Itzkoff, quite suddenly reconciled to his father, explains why he'll go along with it, the author returns to dialogue mode: "'Yes,' I said to my mother. 'Yes, I will. Yes.'" Why on earth is Mr. Itzkoff, former Spin editor, cultural reporter for The Times and author of Lads, a memoir of working at spank-rag Maxim, quoting here from Molly Bloom's monologue at the end of Ulysses? (On page 200, there's an equally soggy reference to W.B. Yeats' "The Second Coming," when dancers at Mr. Itzkoff's wedding are said to "widen their gyrations.") The astounding irrelevance of the allusion, itself a cliché in modernist fiction, presents a puzzle that grows more puzzling in the next paragraph: "The harder I tried to avoid cliché in my life," Mr. Itzkoff moans, "the more inevitably I ended up fulfilling it."
Mr. Itzkoff ascribes this flare-up of self-loathing to his acquiescence to the passé ritual of the tell-all cure, but that's just a symptom. The underlying syndrome is Mr. Itzkoff's ambivalence about the very purpose of his book. He needs to make some sense of his father's strange personality, distorted by years of intense cocaine abuse, and start to understand how his father's behavior may have affected his own. Anyone with a parent who has called up, blitzed and basically dissociative, from a flophouse can be expected to have some issues to work through, issues that could form the basis of a fine, possibly best-selling memoir of family trauma. Therapy sounds like as good a place as any to start. "What horrible and long-denied truths about myself would emerge after the superficial layer of infallibility was peeled off of me?" Mr. Itzkoff muses.
A memoir is an announcement of self-revelation, but Mr. Itzkoff's deep waters remain opaque. Therapy produces no great insights for either party, or at least none Mr. Itzkoff deemed worth recording—he confesses that he didn't write anything down about the experience. It's an unnecessary admission for a memoirist to make, but Mr. Itzkoff's elaborate rationalization hints that he feels awkward about his lapse. "I was so sure," he writes, "that the intensity of the sessions would burn themselves into my brain, but even a glance at the sun eventually fades from behind your eyelids. … These memories"—of group therapy—"dangle like charms on a bracelet that I stashed in some old tchotchke drawer, all knotted and tangled. But they're all I have left."
For personal revelation, we have to make do with Mr. Itzkoff's confession, at the end of the book, that he has a temper; and his curiosity about whether his love of masturbating, playing video games and smoking weed while watching TV might come to dominate and destroy his existence as cocaine nearly did his father's. He never tires of dramatizing his own turpitude. "And when I look back on the course of my life," he writes of his 30-odd years, "all the sins I've been responsible for, all the stains that will never be fully cleansed from my soul, all the acts of deceit and larceny, guile and ruthlessness … that I dare not ever confess …" Larceny? Don't they do background checks at Maxim, Spin or The Times?
Like all narcissists, Mr. Itzkoff the memoirist—and Mr. Itzkoff as constituted in the book is certainly a narcissist—has an inverted sense of the dramatic. Whatever involves actual events either fails to raise his interest or makes him crabby, but when his own psychodrama is activated, he comes alive. In fifth grade, Mr. Itzkoff found it difficult to talk to a girl he liked, so the "relationship" tanked. Mr. Itzkoff is so absurdly hard on his preteen self that it might be a joke, though I don't think so: "And that's how my cowardice ruined my first relationship." After puberty, Mr. Itzkoff arrives full of optimism for his first year of college (at Princeton, in case you missed Lads), and is instantly discouraged by his own magical thinking: "When I looked at my new classmates, I thought I was putting out a message of curiosity and openness, but I must have been communicating desperation and vulnerability, because what I saw directed back at me was ambition, aggression and antipathy."
The book's stronger set pieces are aborted by the flip side of Mr. Itzkoff's narcissism—when things get cooking, he bails. He storms out of therapy to sulk when it gets too dramatic. After that subplot peters out, father and son go on a road trip into the elder's past. Before retiring, Gerald Itzkoff had been a macher, a fur trader who joined the business run by his own eccentric father in the early 1960s and made enough money in his first year to buy a convertible sports car in cash. Cocaine made him eccentric—he habitually freaked out the young Mr. Itzkoff with bedside monologues on the joys of fucking. Yet even in the paranoid, hallucinatory depths of his addiction, he held on to his reputation as a ferocious businessman. So we have been told by Mr. Itzkoff in previous chapters and in Lads, and so we finally see when the two arrive at the auction.
Gerald Itzkoff's former colleagues are in awe of him. He is a titan from a bygone age, and as he makes the rounds, stories about his past come to light. The narrative picks up speed. Gerald himself gets swept along: "The environment of the auction … seemed to trick him into thinking he was still participating in it." He wanders around the convention center, starts conversations, argues, parks his gum on his soda can and jabbers about fur. He is in his element, the burdens of addiction for the moment forgotten.
What is happening is the very thing Mr. Itzkoff desires. He has a chance to glimpse his father from a fresh perspective. But the sequence lasts two short pages and ends with Mr. Itzkoff abruptly returning to the hotel to check the TV schedule, leaving his rejuvenated father behind. Ponderous prose returns us to the confines of Mr. Itzkoff's consciousness: "I slept poorly that night, and woke up with a cold, probably the result of my prolonged exposure to cigarette smoke and unknown elements in the uncontaminated Canadian atmosphere that were toxic only to the central nervous system [sic] of New Yorkers."
The private purpose of the book, one suspects, is for Mr. Itzkoff to show that he has grown as a writer, that he can push beyond the 12-word sentences that are the house style at his day job, on the Times Arts Section desk, where he is an able reporter. And he has, in a way. The sentences in Cocaine's Son are often sort of long, but the diction throughout is distractingly elevated, marked by semicolons, parallel constructions and periodic sentences that transpire in Victorian fustiness, and whose formality are totally at odds with the subject of the memoir. There is nothing drug-fueled ab
out Cocaine's Son. And though the style is an improvement over the glib, magaziney prose in Lads, where a kicker was never much farther than the end of the graf, it can be just as imprecise. Can one, for example, really fulfill a cliché?
The intended effect of all the moping is familiar and sordid, and what all narcissists desire: to reveal the exquisiteness of personal pain before a crowd. Or, in Mr. Itzkoff's phrase, to let "a few tears slip out and caress my cheeks," but without looking—if I may make my own shopworn allusion—into the too-deep place where the sad thoughts lie.