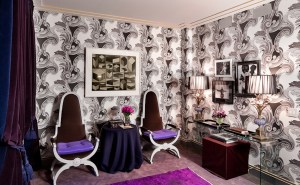 This weekend, 70 to 100 people will trek through the plastic-wrapped lobby of The Aldyn, an Upper West Side development so new that the offering plan has yet to be approved. What's bringing them to the banks of the Hudson? A show house, New York style: four 14th-floor waterview apartments sport décor by household name designers. Nate Berkus? Martha Stewart? Not quite. It's fashion designers from Elie Tahari to Diane von Furstenberg who have catwalked on up from Seventh Avenue to dress models—model apartments, that is—in ready-to-live looks reminiscent of the designers' own runway collections. "The attention that the showrooms have brought has been unprecedented," said Larry Kruysman of Corcoran Sunshine, who is managing sales for The Aldyn. The show "house," open through December, "has opened the eyes of the public."
It's one thing to have fashionistas place furniture, but what happens if you let them at the kitchen cabinets and bathroom fixtures?
Forty-odd blocks south of The Aldyn, Zac Posen has come off the rack at 16W21, a new nine-unit glass-faced condominium in the Ladies' Mile Historic District. A chic Hollywood favorite— Gwyneth Paltrow has worn Posen to the Oscars, Tina Fey to the 2010 Golden Globes—Posen's influence didn't stop at temporary model apartments. 16W21 and each of is residences feature couture touches like Posen-designed molded stair rails and a Posen-customized kitchen cabinet color (teal). Steven Ivankovich of Gruppo C'E, the Monaco-based real estate firm behind the project, told Home that a "brilliant aesthetic eye" like Zac's "can easily be applied to fashion, interiors and across many artistic applications."
Fashion designers creating apartment interiors? Ring, ring! Sounds like 2005 calling. But surprisingly, this real estate phenomenon, reminiscent of pre-Lehman days, might just have supermodel-length legs—at least according to Michael Shvo, the man who gets (and gives himself) credit for being the first to marry fashion and interior design. "You definitely have—when you deal with these designers—a longevity." Shvo should know. He was behind what was perhaps Manhattan's first project to take fashion designers out of the studio and into the studio apartment: 20 Pine, dubbed "The Collection"—a FiDi condo designed by Armani/Casa, where residents can enjoy a hamman and each apartment features the kitchen equivalent of an Armani suit, where anything as mundane as an oven is discreted away in walnut-stained wood as lush and tan as Mr. Armani himself. 20 Pine's price tags have been marked down since its opening (lawsuits by disgruntled buyers and an eighth-inning developer switch hasn't helped), but according to reports, it's 90 percent sold.
Also still wearable is "The Jade" at 16 West 19th Street, with interiors designed by Jade Jagger, a jewelry designer with a genetic bohemian style courtesy of parents Mick and Bianca. Jagger was commissioned to design a building that targeted, says Shvo, "younger, successful females and couples," and she personally selected design features from finishes to colors schemes. She also, of course, picked the pods: The Jade's signature is its "pod living" concept in which lacquered cubes stand in the middle of each apartment, hiding kitchens and bathrooms. And be aware: There are pod people among us. The last sponsor unit, a 1,600-square-foot, two-bedroom, two-bath penthouse listed at $2.149 million, recently went into contract.
The relative success of these branded developments might be attributable to the immediate and clear definition that association with a fashion house's style gives a building. Not to mention the design itself. "From a real estate point of view," says Shvo, "I felt that when you go ahead and hire any great architect, yes, they might give you a pretty building but most of the interiors end up being quite bland." Jean Nouvel might disagree. Fashion designers do garner stronger name recognition than architects in certain circles, especially with international buyers. "With [20 Pine]," Shvo told HOME, "we sold to a tremendous amount of foreigners because they come here and see a building designed by Armani, something they know and are attracted to." The concept is hardly foolproof. Real estate insiders agree that for the concept to succeed, it needs to be the right brand for the right people in the right location. One that wasn't? In 2005, Belfonti Properties proudly announced a stylish new building at 485 Fifth Avenue, with interiors by Peter Som. Som, a successful but smaller designer without an Armani cachet or a clear-cut following, didn't quite fit. Clearance sale! The property is now a Hyatt hotel. Fashion, after all, can be fleeting. As Michael Shvo, who now considers himself semi-retired, put it, "A pretty dress is not a pretty dress on everybody."
Out of the Closet. Good style begins in the home—and with fashion designers moving out of the closet and into the furniture market, your living room may soon vie with you for best-dressed. Those gypsy pants might be eBay-bound, but a great chair is an investment that lasts. Most fashion designer's home furniture lines reflect their runway sensibilities, especially in the case of Jean Paul Gaultier's new collection for Roche-Bobois: From the man who brought you Madonna's cone bustier comes a chair with wheels, a wardrobe adorned with a tattoo print (also on wheels), a full-length mirror attached to an industrial hand trolley and an aluminum- and-upholstered headboard on, you guessed it, wheels. If you prefer your furnishings a bit more conservative— or motionless—Oscar de la Renta's sophisticated cocktail dresses translate into tailored upholstery and cabinetry fit for a Park Avenue prewar. Buying in Bedford? Outfit your entire life in Ralph Lauren, from blazers to bedroom sets, cashmere to couches. Those dizzying Easter-egg Missoni prints on your favorite poncho also cover lamps from Missoni Home, and for somewhere to rest your Birkin on rainy days, try the Hermès "Pippa" leather director's chair: At $10,200, it folds up nicely (matching footstool sold separately). Boho Marni loyalists' feet never have to touch ground again; the label's signature florals dot its carpet collection for the Rug Company, which also offers wild and wool carpet blends from Paul Smith, Lulu Guinness and Vivienne Westwood. If Westwood's trashy (literally) "Rubbish" rug or lascivious lip pillow speak a little too loudly, perhaps you'll prefer perching on the disciplined shapes of Armani/Casa's extensive furniture line or Calvin Klein's Curator Collection. After all, Calvin Klein sample sizes might run a tad snug, but a Calvin Klein couch will always fit. — R.M.