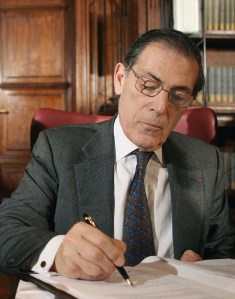 A triumvirate of art collectors, along with Philippe de Montebello, who served as director of the Metropolitan Museum of Art for a generation, gathered at the Frick last week to talk art. Old Masters to the present. But they wandered far afield into such issues as thorny conflicts of interest, stepping on museum curators' toes and the (unfortunate) social aspects of big spending on contemporary art.
On the panel were Blackstone CEO J. Tomilson Hill; Jessie Price, who's on the board of the Dallas Museum of Art and collects both Old Masters and contemporary art; and Hartford, Conn., contemporary art collector Mickey Cartin, who's given more than 100 works to that city's Wadsworth Atheneum. Laurence Kanter, a curator of the Yale University Art Gallery, posed the questions in this edited version of the Art Dealers Association of America event:
LK: How do you sort through the white noise of things that are no doubt offered to you all the time?
MC: I just wait to see what comes to me. I say no frequently to things that I can't afford and no still to things that don't excite me.
JP: I hate to say it but a lot of stimulus comes from auction catalogs. We bought furniture for a while, but then we had a lot of furniture. There seem to be very good Old Master drawings available now. It's not scientific. I'll say one problem I've always had: We're not really known. So after we bought a few early Italian pictures, all we we're offered was Madonnas and babies, Madonnas and babies, and I had them already.
TH: The history of collecting has often been about trying to make connections [between artworks, subjects, eras], so I'm constantly trying to make connections. I do have some rules: Everything that my wife and I buy we have to hang, or have to install, if it's sculpture. We don't have anything we have in a warehouse tucked away. And when I have a hole [in my collection], I'm a heat-seeking missile to fill that hole. I've tracked down who has owned pictures. I'll go out and actively approach someone who has something I'm interested in and say, 'Will you sell it?'
LK: [to Mr. de Montebello] How do you keep yourself open-minded? How did you respond to a curator who wished to acquire an object from a culture you did not fully understand or may even have found unsympathetic?
PdM: One has to reserve one's passions for other things. It teaches you the phenomenon of occasionally supporting [in front of] an acquisitions committee an object that you loathe. I used to get paid to do that.
What one is doing is relying on the judgment of the curators. You trust the recommendation that is made and you question it frequently if you think the object is perfectly awful. And you wait until you are persuaded it is 'best of kind.'
JP: I've been on acquisitions committees. Occasionally, we've bought a lot of things I don't really like that much but the curators like them. But sometimes you have to speak up, and it's tough. You get in the mail a big pile of books on an artist sent anonymously with the not-so-subtle implication that if you knew about this artist, you would have approved buying two of them when we don't even think the artist is that good.
PdM: With contemporary art, most of the purchases never got into the Metropolitan's boardroom. They were done in relationships of curators and individual donors and approved by the board of trustees. It's also a matter of price, those works were not that expensive.
LK: With Old Masters, it is rare to find a work that has not lived through a controversy of its authorship. How much of this has been a deterrent to you?
MC: I don't know what people pay so much money for things that seem to matter so little, things just made in the last year or so. But the question of identity is a real one; it's important to know who made something.
JP: Why people spend so much money on contemporary art, that's a whole other subject. [The idea that] the more you spend, the better it is, that has to do with a big social life. [For some collectors] there's the Black Friday experience of going to Art Basel and they drop the rope and you're so depressed because the Andy Warhol Electric Chair in your favorite color is gone and you have to settle for your third favorite color even though you have a very important person advising you and you are a VIP besides.
We tend not to be very social, we just like the stuff, we don't really like what goes on with it.
MC: There's a phenomenon: People buy things because they've watched others buy them.
PdM: It is well known that the extensive forays into very contemporary art at the Metropolitan were not frequent. The Met does exhibit very contemporary art, of this decade or the previous one, but very deliberately as a policy did not acquire much precisely because of the sense that much of it is highly speculative. Whatever you miss today, you can buy perhaps more expensively tomorrow, but more securely.
LK: Are there conflicts of interests when collectors serve on museum boards?
TH: In my experience with a number of museums, it is a very symbiotic relationship. There is the potential of conflict where a given board member and collector has in-depth the work of a given artist where the museum [is putting] on a show. There's a jockeying as to whether a given work by that person on the board will be included in the show. I think that goes on very frequently. That's an area where everyone has to be very careful.
JP: I have noticed a tendency in Dallas now to do joint deals where the museum buys half, and the collector buys half. The policy in earlier years was that you didn't do that because there was always the possibility of the falling out. And you could also say that the museum then lends the work its imprimatur. And I do feel in contemporary art there seems to be a little too much imprimaturing going on. The relationship between dealer and contemporary curators and collectors seems a little too friendly to me.
TH: If you follow the Francis Bacon market, there was a purchase at Sotheby's of a small self-portrait that fetched above $21 million. It was bought by Damien Hirst, and he chose to advertise that he was the purchaser. That was an example of trying to influence the market. If you were a collector it was a terrible thing, but it was a phenomenon.
JP: It seems weird that Francis Bacon would need Damien Hirst to make the market.