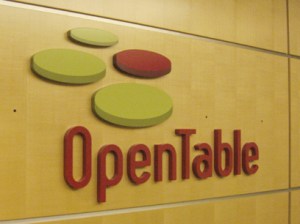 Restaurant-reservation powerhouse OpenTable has been on a tear since its initial public offering in May of last year, but wily competition from rival startup VillageVines.com could give OpenTable a run for its money.
Shares in OpenTable have tripled in value since the company's big IPO last year, but restaurateurs have lately been grumbling that maybe its services aren't that valuable and maybe even harm subscribers.
VillageVines could get an edge over OpenTable by offering upscale restaurants the opportunity to name some terms of the deals they offer customers.
That helps restaurateurs fill tables at odd hours – 5 p.m. on a weeknight, say – when they might otherwise be empty. So only those willing to be flexible with their meal times can get cheap eats.

Or at least cheaper. VillageVines has decided to focus on high-end fair. New York's Le Cirque, where you can spend $120 on a white truffle appetizer, was among the first to sign up. In any case, with the $10 charge for making a reservation, the bill has to be at least $33.33 for a subscriber to break even.
If VillageVines can pack restaurants on terms that are more attractive to restaurants, the company could be due to capture some of OpenTable's success at a time when the dominant reservation engine is vulnerable to client criticism. VillageVines' recent $3 million capital raise may give it the juice to get there.
mtaylor [at] observer.com | @mbrookstaylor