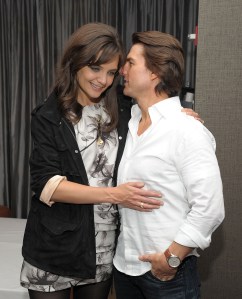 Religious extremists Tom Cruise and Katie Holmes may not be gracing the Kodak Theater's red carpet come Oscar night.
And it's not the lack of nominations keeping them away (that's always the case!) Rather, it seems like the First Couple of Scientology are entangled in a bit of a tiff with the non-Franco half of the Academy Awards hosting team, Anne Hathaway. A tipster informed The Daily Mail that the dynamic duo have beef with Hathaway over her hair-tucking breathy-voiced mocking of Mrs. Cruise on Saturday Night Live.
The real tragedy of this tale of deceit, betrayal, and love lost? Hathaway was once upon a time besties with the thetan-laden couple. When Hathaway's relationship went a bit sour — don't date guys who run off with $50 million acquired by manipulating The Pope, Anne! — the Cruises gave the frowny-face Anne Hathaway the best pick-me-up there is.
They used to be friends and took Anne to a Tina Turner concert in 2008 when Anne split up from her boyfriend Raffaello Follieri.
Tina Turner! This relationship used to be magic, and now it's over and done with. Sometimes Hollywood can break your heart.
Watch the offending video below.