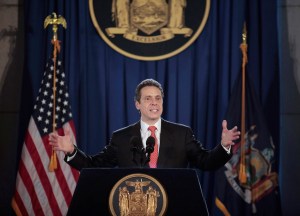 Siena College released their latest poll this morning and it contains good news for Andrew Cuomo: New York's new governor's favorability rating tops 70 percent while under one-fifth of voters view him unfavorably.
"After two weeks as Governor, Cuomo's honeymoon is in full swing, as he gets strong marks from voters by every measure. For the first time in more than a year, 70 percent of voters have a favorable view of Cuomo, while only 17 percent view him unfavorably, the lowest since August 2009. He is viewed favorably by 78 percent of Democrats and 60 percent of Republicans; 73 percent of downstaters and 65 percent of upstaters; and even 53 percent of conservatives," said Siena College pollster Steven Greenberg. "A plurality of voters, 44 percent, says he's doing an excellent or good job as governor, compared to 28 percent who say he's doing a fair or poor job."
When respondents were asked who they expect to do the right thing–the governor or the Legislature–68 percent chose Cuomo. Fewer than one-third of voters have favorable opinions of the State Senate and the Assembly.
Says Greenberg: "Nearly half of voters – including a majority of Democrats, women and downstaters – believe that in one year Cuomo will have succeeded in making Albany considerably less dysfunctional and getting Republicans and Democrats to work better together. However, a nearly equal number, 46 percent, think that Albany will still be way too dysfunctional, despite Cuomo's good intentions."
The poll also showed that 36 percent of New Yorkers think that the state is on the right track–a poor showing, but New Yorker's rosiest assessment in two years.