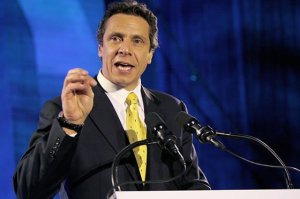 Andrew Cuomo will lay out a broad agenda in his first State of the State, promising to open up government to the public and beginning to dig New York's out of his current fiscal hole.
"We must transform government the State of New York from a government of dysfunction of, gridlock and corruption to a government of performance, integrity, and pride," he said. "Together we must take the significant steps needed to reinvent, reorganize and redesign government to restore credibility and to rebuild our economy,"
Cuomo will lay out an emergency fiscal plan that calls for a one-year salary freeze on public employees, no new taxes, and imposing a state spending cap that would limit spending growth to the rate of inflation. He will also task a new commission on efficiency with reducing the number of agencies, authorities and, yes, commissions, by 20 percent. He has formed a team that will look into a redesign of the state's Medicaid program and another that will review unfunded and underfunded mandates imposed by state government.
The governor will also call on the state to pass a same sex marriage law.