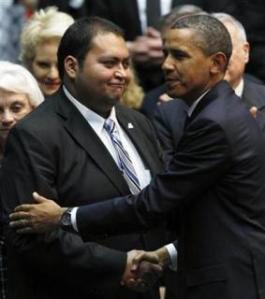 Daniel Hernandez, the intern who became a national hero when he cared for wounded Congresswoman Gabrielle Giffords, will be at City Hall tomorrow to call for better enforcement of gun control laws.
"It is my hope that President Obama and Congress will work together right away to reform our gun background check system so that all records of dangerous people are in the system and all gun buyers will have to pass a thorough background check, and that this be done in a way that does not infringe on Second Amendment rights, so that responsible citizens may exercise their right to bear arms," Hernandez said in a press release.
The event is hosted by Mayors Against Illegal Guns, the coalition of 550 mayors that was co-founded by Mayor Bloomberg, who has pushed aggressively for more thorough background checks in the wake of the Arizona shooting. Yesterday, he hosted Martin Luther King III and dozens of gun violence victims at City Hall, followed by an appearance on the CBS Evening News with Katie Couric.
In an open letter published in today's Washington Post, Mayors Against Illegal Guns reiterated its central goals: ensuring background checks for every gun purchase and using data about mental health records and drug use to bar some people from buying guns. Some states have not submitted mental health data into a national database, diminishing the effectiveness of checks mandated by the Brady Bill.
Hernandez has emerged as a spokesperson for the cause, joining gun control advocates in questioning whether alleged shooter Jared Loughner should have been able to obtain a gun.