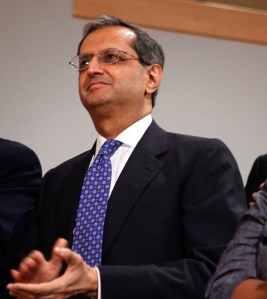 Update: A Citi spokesperson contacted The Observer with the following statement:
As this individual well knows, Citi identified the fraud and immediately reported the matter to the regulators and law enforcement agencies. His claims against senior executives are completely without basis and we intend to contest them vigorously. It was on Citi complaint that the Gurgaon police lodged an FIR and are currently investigating the matter. Citi will continue to work with the authorities on this investigation.
Running a global franchise sometimes means getting in international spats with the police. Just ask Citigroup (C) boss Vikram Pandit, who is in some hot water back in his native India, where the authorities allege that Citibank's Guragon branch was siphoning off depositor money and using it to play the stock market. The Times of India reports that Citigroup's retired executive vice chairman, William Rhodes, and several high-level Citi employees are also being named in the complaint.
At stake are 300 crore, or 3 billion rupees, or $66 million U.S.
Sanjiv Agarwal, a rich investor from India, filed the complaint. According to India-news site NDTV, Shivraj Puri, branch manager in Guragon, was arrested last week and interrogated by police. Mr. Puri apparently ratted on Mr. Pandit and his other bosses:
Puri has allegedly told the police that the top rung of Citibank was aware of how his scam worked.

Puri reportedly promised corporate clients and High Net worth Individuals (HNIs) high-return schemes. He deposited their money in accounts in the names of his family and friends, and then diverted the money to the markets.
This considerable blow to Citigroup's customer service reputation follows recent efforts to refurbish the company's relationship with clients. Opening a brand-new space-age banking branch on one side of the world doesn't exactly make up for defrauding customers on the other.
Clarification: William R. Rhodes retired from Citigroup last year. He was a senior vice chairman, not the chairman — as the article previously stated. We regret the confusion.
(We came across this story via TheStreet.com and The Wall Street Journal.)
mtaylor [at] observer.com | @mbrookstaylor