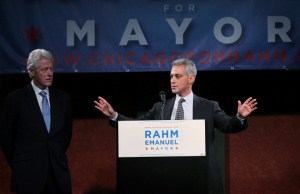 Public Advocate Bill de Blasio is out with a statement in support of Rahm Emanuel's effort to stay in the Chicago mayoral race, after a surprise 2-1 decision knocked him off the ballot yesterday.
"The integrity of our elections is damaged when arcane bureaucracy triumphs over democratic choice," de Blasio said in a statement.
The public advocate had his own brush with election law last year, when the Board of Elections briefly disqualified him after his cover sheet misstated the number of petitions he was submitting. That decision was, of course, reversed, and de Blasio went on to win the race.
"Kicking Rahm Emanuel, a Chicago native, [former] Congressmember and the frontrunner in the polls, off the ballot only serves to limit voters' options on Election Day," said de Blasio. "As an elected official who almost didn't make it onto the ballot because of a typo, I can speak from experience: The Illinois Supreme Court should restore Mr. Emanuel's candidacy and fairness to Chicago's Mayoral election."
Fighting the city election bureaucracy isn't their only connection. Before de Blasio entered city politics, he was the regional director of HUD under Bill Clinton, who Emanuel served as an adviser. The two overlapped for just a year, and came to know each other better after Clinton left office.