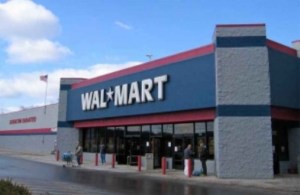 The city's public advocate released a report today criticizing proposed plans for a Wal-Mart in Manhattan, predicting that the number of jobs lost as a result will outweigh those gained by opening the superstore.
The report, released by Public Advocate Bill de Blasio in conjunction with Hunter College Center for Community Planning and Development, reviewed more than 50 studies of Wal-Mart openings in other cities, and concluded that neighboring small businesses are driven to close because of competition.
"The history of the last decade tells us that Wal-Mart stands to be our City's Trojan Horse," de Blasio said in a statement. "Wal-Mart's record of driving small businesses out of town and paying below-poverty line wages to its employees will only exacerbate the current decline of New York City's middle class. We must do everything we can to spur job creation in New York City, but that does not include opening our doors to a proven job-killer."
In addition to a net loss of jobs, the report claims that Wal-Mart would be a burden on the city's taxpayers, because of their increased subsidized healthcare needs and their past history of failing to pay billions in taxes.
"Studies from all across the country show that Wal-Mart's arrival does not bring the increase in jobs and retail spending that the company promises," said Brian Paul, Center Fellow and Masters of Urban Planning Candidate at Hunter College. "Instead, Wal-Mart captures spending from existing stores, driving them out of business and replacing existing retail jobs with lower-paying Wal-Mart jobs."
Wal-Mart has tried to break into the Manhattan market for years now, but the most recent proposal came in September, when the retailer introduced plans to open several smaller stores in the city as opposed to one of its big-box stores.
The store stands to be a sticking point between Mayor Michael Bloomberg and many members of the City Council.
Bradley Tusk, who ran Bloomberg's 2009 re-election campaign, is working on behalf of Wal-Mart, which has launched an aggressive public relations campaign to sway New Yorkers on the merits of the store. Its website–WalmartNYC.com–includes a page with several favorable quotes from Bloomberg.
Several members of the Council have expressed skepticism that the store would have a positive impact on the local economy. The Council plans to hold a hearing on Wednesday, and The New York Times reported this morning that Wal-Mart will not participate.