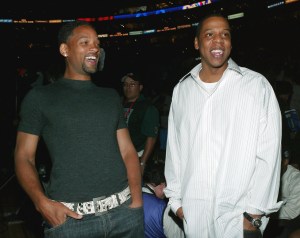 In 1999, Jay-Z nicked the chorus of a song from the all-but-ignored musical Annie and turned it into his then-biggest hit, "Hard Knock Life (Ghetto Anthem)." Now, to steal lyrics from that song, Jay's "gone from lukewarm to hot, sleeping on futons and cots to king sized, dream machines, the green fives." He's got a cadre of high-powered friends, an entertainment empire — not to mention the hottest chick in the game wearing his chain.
What next, then? Well, at least one project will be producing a big-screen remake of Annie, the same musical that gave him that indelible beat over a decade ago.
And to the excitement of "Whip My Hair" fans the world over, the production will star Willow Smith, the ten-year-old daughter of "Gettin' Jiggy With It" rapper (and occasional actor) Will Smith.
The Hollywood Reporter has the dish on this new and potentially awesome Annie. What say you, Jay?
Said Jay-Z in a statement, "The Overbrook Entertainment family and I have a unified vision. We've already produced a Tony Award winning play and we're developing a true superstar in Willow. This venture into film development and production is a perfect next step with teams that are accomplished, creative, and innovative."
And so everything comes full circle. Here's that immortal video, for your viewing pleasure.
http://www.youtube.com/watch?v=zxtn6-XQupM
Click for Scandal Report: Champagne Mania Makes for A Boozy Golden Globes