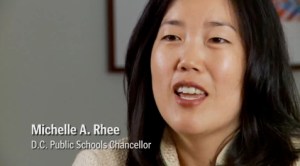 At once self-congratulatory and defiantly Republican, and conscious of a Democratic majority, Gov. Chris Christie took credit today for decisively reversing course on a financial backwater while also enabling a chamberful of applause for Democratic leaders in direct acknowledgment of bipartisan government.
"I believe in a culture of truth," Christie told a joint gathering of legislators in the Assembly chamber. "Look at what's happening. …Sometimes to create real change, you have to go all in and show a little Jersey attitude."
The first-year Republican governor basked in steering a near-unanimous vote on reforming pensions and benefits in addition to enacting legislation to head off a looming pension crisis. With former Washington, D.C. Schools Chancellor Michelle Rhee seated in the audience, the governor zinged the terachers' unions for guarding tenured teachers and vowed to reform poor performing public schools.
He front-loaded merit pay for teachers as a goal.
In an apparent acknowledgemnent of newly sworn-in Gov. Andrew Cuomo in New York, who praised many of Christie's policies while campaigning, Christie said New Jersey is a model for change in other states. The governor gave shout-outs to Steve Adubato's North Ward Center in Newark, a charter school, and education reform ally Newark Mayor Cory Booker, and closed by solemnly invoking his hero, the late President Ronald Reagan.
"He changed his tone today," Assembly Majority Leader Joe Cryan (D-Union Twp.) told NJN's Michael Aron. "Good for him if he did."
In an interview with Aron, Cryan criticized Christie's decision to abide by tricke-down economics by not revisting a millionaire's tax and urged the governor to focus on jobs bills championed by the Democratic legislature.